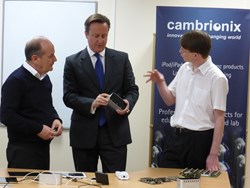 Prime Minister David Cameron
(PRWEB UK) 21 October 2013
Cambrionix was pleased to host David Cameron, Prime Minister of the UK, at their offices in Cambridge on Monday October 14th. Mr. Cameron was in Cambridge visiting small businesses in the East of England to hear about the issues that matter to them and highlight what the Government is doing to support them.
We showed Mr. Cameron a range of our products including the 'U16S board' which is used in our partner's carts and cases around the world to fully charge and synchronise data on all makes of tablets.
Mr. Cameron, a notorious iPad user, was shown the products developed by Cambrionix and was informed of the beneficial impact on the environment of using a multi charger rather than a number of individual chargers. We raised the issue of needing to increase standardization of USB charging cables and how their products were well placed to take advantage of that development. He was particularly interested in their recently developed series8 product for home and office use. They certainly appreciated his time and the interest he showed in Cambrionix's advanced technology.
Cambrionix will be exhibiting at the Gadget Show in London from 1-3 November, and will have a limited number of their new series8 units for sale. Capable of sensing whatever device is plugged into it, the series8 is described as the "Very Intelligent Charger". It will charge up to 8 devices at a time (at an optimum rate for each device), closing off power to each device once fully charged and thus helping preserve devices' lifetime.