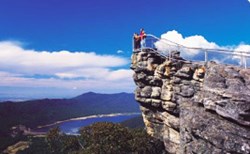 (PRWEB UK) 19 October 2013
The outstanding choice in the Australia gap year travel market, OzAdventures have unveiled their latest travel package Down Under in the form of their new three-day Melbourne to Adelaide Unleashed bundle – an iconic route that of course takes in all of the natural splendour and parishes set alongside Oz's world renowned Great Ocean Road.
Available for as little as £265 per person, Adelaide resides approximately an eight to nine hour drive away from Melbourne and gapers wanting to travel Australia are now able to hit the open road while taking in all of the major sights of interest such as the Twelve Apostles, Grampians National Park and Bordertown along the way.
This travel bundle represents incredible value for money for students looking to get the most out of their Australian adventure and all National Park fees, accommodation and meals including two breakfasts, one lunch and two dinners are included within the price.
Launched exclusively for individuals between the ages of 18 and 39, the tour is aimed at lovers of the great outdoors.
A moderate level of fitness required for those looking to book the tour which comprises stop off retreats and off the beaten track ventures that include koala spotting by the Kennett River, indigenous learnings at the Brambuk Aboriginal Cultural Centre and the panoramic views of the MacKenzie Falls force located in the Grampians Range.
OzAdventures includes their trusty experienced tour guides on the tour once again to offer a helping hand for any informational or problem solving-based issues and this tour is versatile in respect of the alternative traveller options which include completing the Great Ocean Road in reverse from Adelaide to Melbourne as well as accommodating enquiries for local activities and subsidiary excursions.
Again, underpinning OzAdventures' desire to provide the most robust touring packages possible, each of the three days of the Melbourne to Adelaide Unleashed tour pack in plentiful stop off points that include Torquay – affectionately regarded as the starting point of the Great Ocean Road, the Otway Tree Top Walk – an overhead bird's eye view of the rainforest – and the Twelve Apostles – the limestone rock formations beside the Port Campbell National Park – and this is all on day one!
Days two and three are dominated by a fascinating negotiation of the Grampians National Park with authentic Australian BBQ cuisine only adding to the camping theme in just the latest of a wide plethora of thrilling adventure holidays on offer.