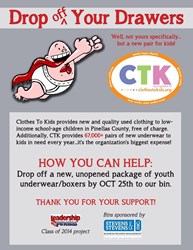 Leadership Pinellas wants to change that [children don't have the clothes that they need].
Tampa Bay, FL (PRWEB) October 21, 2013
Leadership Pinellas is a community-focused program involved in the development of local leaders. The organization works to provide a venue for community leaders to learn more about the community, how it functions and provide opportunities for meaningful involvement. Members of the 2014 Class have committed to helping a non-profit organization, Clothes to Kids (CTK), as one of their class projects. Since 2003, Clothes To Kids has provided more than 80,000 wardrobes to low-income and in crisis school-age children, all free of charge.
More than 53,000 students in Pinellas County qualify for free or reduced price lunch and these are the kids that can "shop" at Clothes to Kids. A complete wardrobe consists of five new pairs of underwear, 5 new pairs of socks, 5 tops, 4 bottoms, a pair of shoes, and fun accessories as available. During this busy back-to-school time, about 500 kids a week are leaving CTK with a bag brimming with much needed clothing.
As part of its mission, CTK provides 67,500 pairs of new underwear, each year. This comes at a great cost to CTK and is an obvious burden to a non-profit working to service the underprivileged:

If CTK were to purchase all the underwear for a given year, it would cost more than $118,000 a year;
If CTK came out of pocket to purchase the number of boxers used by young boys in the program it would cost nearly $25,000;
In September 2013, CTK averaged 1,500 pairs distributed a week and 7,000 the entire month.
Last week an eight-year-old boy was in the store shopping and said to one of the CTK's volunteers that he'd never had five new pairs of underwear and socks at the same time.
"Leadership Pinellas wants to change that," said Darrin Johnson, Chair of the 2014 class.
Leadership Pinellas, along with Clothes To Kids, is currently celebrating "Drop (off) Your Drawers Month," a drive designed to collect and "underwrite" these underwear costs.
Leadership Pinellas is having a party, open to the public, called Drop (off) Your Drawers that will be held at Clear Sky Beachside Café on October 29, 2013 from 6:00 p.m.-9:00 p.m. Admission to the event is a package of new youth underwear. People can bring new youth underwear to lunch or dinner throughout the day if they dine anytime at Clear Sky Beachside Café.
In addition, CTK bins are located at several Leadership Pinellas members' companies throughout Pinellas County in order to help collect the badly needed new youth underwear. Pinellas residents can drop off new kids' underwear at a location convenient to them if they choose:
1.Network People, Inc. – 670 N. Clearwater-Largo Rd. Suite E Largo, FL 33770
2.Arcadia Home Care & Staffing – 710 94th Avenue North Suite 303 St. Petersburg, FL 33702
3.The Greater Palm Harbor YMCA – 1600 16th Street Palm Harbor, FL 34683
4.HSN – 1 HSN Drive St. Petersburg, FL 33729
5.Palm Harbor Dermatology – 4197 Woodlands Pkwy Palm Harbor, FL 34685
6.Achieva Credit Union – 10125 Ulmerton Rd Largo, FL 33771
7.Largo Medical Center – 201 14th St SW Largo, FL 33770
8.Stevens and Stevens Business Records Management – 11515 53rd. Street North Clearwater, FL 33760
Each year, Leadership Pinellas selects approximately 35–40 men and women who live or work in Pinellas County from a sample of professional, business, government, education, religious, civic and non-profit organizations. Over the course of 10 months, new members attend a 2-day orientation session, eight full-day program days, a 3-day trip to the legislative session in Tallahassee, a law enforcement agency ride along and a graduation program. This initiation includes class projects – chosen amongst the members themselves – designed to help and/or improve the community.
Leadership Pinellas Class of 2014 plans on helping a variety of organizations around Pinellas County, with Clothes to Kids being one of them.
For more information about Leadership Pinellas visit http://www.leadershippinellas.com.
For more information about Clothes to Kids visit http://www.clothestokids.org.
To inquire about donations to drop off and the Drop (off) Your Drawers party, call Clothes to Kids at 727-441-5050.
About Leadership Pinellas:
Leadership Pinellas provides a variety of venues in which interested citizens can better understand important community functions, some current or impending ones, and how they can become involved to help find solutions. The program offers its community a continual source of men and women motivated to assume leadership positions in civic, social, professional and charitable institutions. The Mission of Leadership Pinellas is to develop and enhance community leadership by providing a diverse group of emerging and existing leaders with the opportunity to increase their community knowledge, civic network, and perpetuate their service to the community. Visit http://www.leadershippinellas.com.