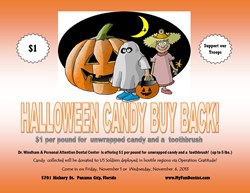 Happy teeth and happy soldiers. It's a win-win with a smile.
Panama City, Florida (PRWEB) October 18, 2013
Try not to devour all that delicious Halloween candy right away. David Pete Windham, DMD is hosting a Halloween Candy Buy Back to benefit Operation Gratitude. Operation Gratitude is an organization that sends care packages to US troops deployed hostile regions. Candy will be collected November 1st and November 6th.
Dr. Windham and Personal Attention Dental Center will be offering $1 per pound of candy, up to five pounds, and a free toothbrush for your excess Halloween candy. All of the candy collected will be donated to Operation Gratitude to send to US Soldiers stationed in hostile regions. Save some of that candy to treat the troops and exchange it for cash and a free toothbrush. Happy teeth and happy soldiers. It's a win-win with a smile.
Every year, Operation Gratitude sends over 100,000 care packages to deployed troops, children of those troops, veterans, Wounded Warriors and their care givers. Operation Gratitude's mission is to lift the spirits of those individuals and show appreciation. Care packages are chocked full of snacks, entertainment items and personal letters of appreciation to those receiving the package. To date, Operation Gratitude has sent over 980,000 care packages and aim to reach a million. To read more about Operation Gratitude, visit their website,
http://www.operationgratitude.com/.
Bring candy into the Personal Attention Dental Center Nov. 1st and Nov. 6th. located at 5701 Hickory St. Panama City, FL 32404. The office is open from 9 a.m. to 5 p.m. on Tuesdays and 8 a.m. to 5 p.m. Wednesday-Friday. For more information, call the office at 850-763-8030.
About the company:
The dental office of David Pete Windham, D.M.D. is committed to providing patients with personal attention in a comfortable and family-like environment. They greet patients by name, shake their hand and find out how they're doing. They show respect for patients with efficient appointment times with their hygienists or dentists. No one enjoys the dentist, and the unfamiliar scary equipment. The warm, welcoming staff will ease the patient's worries with an interesting story or joke and most importantly, a hand to hold.
They take tremendous pride in the personal attention experience their patients have when visiting the practice. To learn more about specific oral health issues and to view their ever-changing specials, visit the dental center's website at http://www.drwindham.net/.