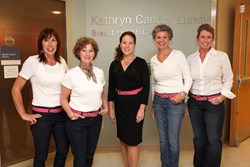 Susquehanna Health is pleased and honored to partner with Tory Leather Company's campaign for breast cancer awareness.
Williamsport, PA (PRWEB) October 18, 2013
For the past 25 years, support for breast cancer awareness has been seen in a variety of forms and fashions. In recognition of Breast Cancer Awareness Month in October, Williamsport based Tory Leather Company has harnessed the unique design of its high quality leather belt to support exceptional care at Susquehanna Health's (SH) Kathryn Candor Lundy Breast Health Center.
Tory Leather Company's Ben Meckbach said the idea for producing a pink latigo leather belt and key fob in support of breast cancer awareness was a "fortunate accident." Meckbach was sourcing leather for another project when he asked the supplier to send a sample to help him judge the weight of the leather. When asked to select a color for the sample, he requested the hot pink color just for fun. When Meckbach received the sample, he said he found the color of the leather so pleasing that it seemed only fitting to use it for a project to support breast cancer.
Meckbach approached Tory Leather Owner Ron Cimini about the potential project. "Ron pushed me to run with the idea," said Meckbach. "He is very charitable and community minded and doesn't do anything halfway." Cimini recommended that a portion of the proceeds from the sales of the belts and key fobs be donated locally to SH Breast Health Center; Meckbach admitted that initially he was challenged by the dollar amount that Cimini suggested.
Tory Leather Company is recognized nationally for the finest full grain leather products and is one of the leading strap manufacturers in the equine industry. For a limited time, the special edition Breast Cancer belts and key fobs are available at Susquehanna Health's Divine Providence Hospital Gift Shop and local retailers including Willard's Saddlery, Inc. and The Clothier. They are also available online at doversaddlery.com and horseloverz.com. The manufacturer's suggested retail price is $50 for the belt and $5 for the key fob, according to Meckbach. To date, about 900 belts and several hundred key fobs have already been sold through the company's network of retailers and distributors in the United States and Canada.
"Susquehanna Health is pleased and honored to partner with Tory Leather Company's campaign for breast cancer awareness," said SH Breast Health Center Manager Susan Keeler. "The sales of these attractive, fine quality leather products will not only serve to continue conversations about breast cancer awareness throughout the year, but will also help in keeping Susquehanna Health and our community on the cutting edge of breast cancer prevention and early detection."
For more information about Susquehanna Health's Breast Health Center, visit SusquehannaHealth.org/breast-health.
About Susquehanna Health
Susquehanna Health is a four-hospital integrated health system including Divine Providence Hospital, Muncy Valley Hospital, Soldiers + Sailors Memorial Hospital and Williamsport Regional Medical Center located in northcentral Pennsylvania. Serving patients from an 11-county region, Susquehanna Health is a healthcare leader and has been recognized at the national and state levels for quality of care. Susquehanna Health offers a wide array of services that include cancer care, heart and vascular care/heart surgery, neurosciences including neurosurgery, orthopedics, urology, OB/GYN, gastrointestinal services, behavioral health, physical rehabilitation, home care, long term care, assisted living and paramedic/ambulance services.