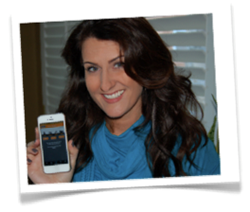 DotGlu is an innovation for those who love scrapbooking. Ditch the Gluestick and make pages right from your phone!
South Pasadena, California (PRWEB) October 24, 2013
The new scrapbooking app for iPhone, DotGlu transforms your phone into a pocket-sized, photo sharing tool. Users can create, and share keepsake-quality scrapbook pages from free templates with photos and embedded media clips on-the-go.
Users can build a digital scrapbook memory using 7 tools:

Photos: crop and scale as desired
People: set up a list of the people likely to be in your memories and add their photos, names, and ages (optional) to a scrapbook page
Text: add descriptive details; the place; and a memorable quote with a speaker's name
Audio clips: 30 seconds; embedded
Video clips: 60 seconds; embedded
The output is a high-quality scrapbook PDF with embedded links to audio clips, video clips, and photos that prints flawlessly on standard copy paper, but more vibrantly on photo paper. The finished page can be shared via: email, messaging/text, social media (Facebook, Twitter, Tumblr), placed in Dropbox, or the phone's camera roll.
Scrapbook memories are saved with a date and title in one of more than 60 designer templates formatted like a scrapbook page. With new template introductions monthly, users will always have a fresh look for their memories. There are more than 20 free templates and premium DotGlu scrapbook templates start at just $.99 each. Or, users can choose 5 DotGlu templates for just $1.99.
"DotGlu lets you frame an entire memory, minutes after it happens. It allows moms to put photo and video capture software in the iPhone to the best use possible," according to DotGlu founder Ava Herrera.
Developed by California-based Ivory Clay, using DotGlu's patent-pending technology, the app recognizes the captured data and loads it automatically and precisely into the right place on each of the different templates in seconds. The smart technology also recognizes when data is not included and adjusts the layout accordingly.
The app uses cloud technology via secured Amazon server to host your memories for speed, and as a back-up plan when baby throws your phone in the bathtub.
Future iterations of the application include an Android version, links to photo storage and book printing sites and customizable templates via iPad and Desktop versions. Plans for sharing and creating memories between users and private user web sites are also in the works.
Download DotGlu and start creating your "memories that stick."
About Ivory Clay:
Founded in 2012, Ivory Clay, LLC operates out of Minnesota and California.
To learn more, visit: http://www.dotgluapp.com or watch the tutorial video here.
Download the DotGlu app, or read reviews.
App software requirements:
iOS 5 and higher
Devices:
iPhone 3,4,4S,5, 5C, 5S; iPod 3rd generation and higher
Contacts:
Ava Hererra
DotGlu Founder
626-253-0570
ava(at)dotgluapp(dot)com
Dennis Todora
DotGlu Chief Operating Officer
651-200-3837
dennis(at)dotgluapp(dot)com
Hilary Le Bon
DotGlu Media Relations
202-487-8509
hilary(at)dotgluapp(dot)com