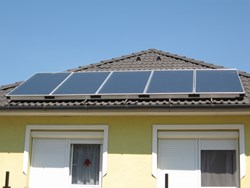 "We are committed to make solar power an affordable energy source for every home." - Sunil Sinha, Inventor, PluggedSolar
(PRWEB) October 18, 2013
Plugged Solar is an innovative and affordable solar energy solution for every home. PluggedSolar kits are being installed at homes with the grid interconnection across USA. They are now in demand in Mexico. The Plugged Solar has two versions, plug-in type that is attached to the standard electrical plug socket of a home. Another type is hard wired that is connected to electrical panel. Plug-in model is do-it-yourself solar power kit whereas the hard wired may need an electrician to connect to the house electrical panel. PluggedSolar was launched just a few months ago, the ease of installation at affordable cost has enjoyed a quick adoption rate across North America. Now it is expanding in Mexico. The homeowners get a relief from rising electrical cost by using solar power.
PluggedSolar Kit has a patent pending technology, which is similar to that of the traditional solar grid tie systems installed in buildings across the country. Plugged Solar kit has the high quality solar panels (with 25 years of warranty) and a grid tie inverters (5 years of warranty). These components are the ones as used in any solar installation done by solar licensed contractor. The solar panels and grid tie inverters are manufactured by global mega companies. The key differentiation from the traditional solar power to Plugged solar is the output voltage. The PluggedSolar has an output voltage of 120V AC which makes it plug-n-play as an appliance, the traditional solar installations have 240V AC, which requires a licensed electrician to make the connection.
The PluggedSolar kit has an easier DIY installation mountings for solar panels. All the components of the PluggedSolar are UL approved and so, the utilities and power companies are approving it. As stated by Dept. of Energy, there is 50% of cost saving if solar energy becomes plug-play.
http://energy.gov/articles/going-solar-record-time-plug-and-play-pv
PluggedSolar makes the solar energy affordable and comparable to the conventional Co2 producing power plant electricity
Phone : +1 (281) 712 2757
http://www.pluggedsolar.com/