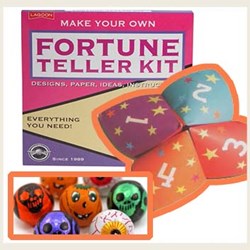 Parents have told us that they like the quality and value for money of our party bags.
North London, London (PRWEB UK) 21 October 2013
North London based online retailer 'Gifts For Tweens' are celebrating Halloween with a new range of spooky party bags aimed at the tricky to impress 7-12 age group. http://www.giftsfortweens.co.uk have seen an increase in party bag sales in 2013 and are regularly supplying parties with innovative and fun products for all budgets.
At a time of year when cheap, plastic products fill the Halloween themed shelves in stores, the online retailer's range of Halloween party bags filled with good quality spooky goodies are a fabulous alternative. The party bag range includes Halloween favourites such as magic tricks and fortune telling games.
Halloween is adding to the already flourishing children's party business in the UK. A survey of 1000 UK parents by Littlewoods.com earlier this year showed that we are paying an average £214 for a child's birthday party. While one in eleven parents (9% of the survey) are paying over £800, and 2% of those surveyed received extravagant items including iPods in the child's party goody bag.
Director Sunette Ramirez-Espain comments, "Parents have told us that they like the quality and value for money of our party bags. They look great and don't cost the earth, and parents know that they contain good quality products that the kids will enjoy. They're a lovely addition to any celebration, and we can put together bespoke pre-filled bags to compliment the party theme."
The party bags start from £3.50 and contain carefully selected products from the online range to entertain and inspire boys and girls in the 7-12 age group. In addition to Halloween, popular bags include magic, science, nature, crafts and creative, and safe to use cosmetics for tween sleepover make-overs. Each bag is beautifully presented and will delight any tween party guest.
For more details of our party bag range, visit http://www.giftsfortweens.co.uk.
Contact:
Sunette Ramirez-Espain
Gifts for Tweens is an online toy and game retailer which sells carefully selected products specifically aimed at the 7-12 age group. The company sources creative and innovative toys and games which fire kids' imaginations.