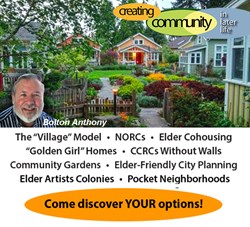 A creative, communal setting that enables seniors to stay independent, active and integrated is the future of elder housing, and concepts such as "Pocket Neighborhoods" embody just that.- JoAnn Westbrook
Sarasota, FL (PRWEB) October 18, 2013
With more and more baby boomers nearing retirement age, designing neighborhoods for happiness for aging generations is an important topic for Sarasota County. Pines Education Institute of Southwest Florida is hosting a seminar on this topic, "Creating Community in Later Life" on November 15th, 9am to 12 pm.
Presenter Bolton Anthony, founder of the Chapel Hill-based nonprofit organization "Second Journey", will help Sarasota to "birth a new vision of the rich possibilities of later life".
Attendees will learn about a variety of living options, ranging from Pocket Neighborhoods, "Golden Girl" Homes, Elder Cohousing, the "Village Model" to elder-friendly city planning.
"Most Boomers are not looking to spend their retirement years secluded in a home, but would enjoy living in a family-like setting with people of different generations that care and look out for one another," explains JoAnn Westbrook, Director of Education at Pines.
"A creative, communal setting that enables seniors to stay independent, active, and integrated is the future of elder housing, and concepts such as 'Pocket Neighborhoods' embody just that."
For more Information visit http://www.creatingcommunity.eventbrite.com or call JoAnn Westbrook at 941.365.0250, Ext. 1114.