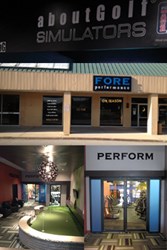 Passion and empowerment drive FORE Performance to impact every individual that comes through its doors. FORE is inspiration through innovation.
Rochester, NY (PRWEB) October 18, 2013
Golf and Fitness come together for charity.
On November 1 and 2, FORE Performance, the area leader in performance training for golfers and athletes, is partnering with the Make-A-Wish Foundation for a charitable grand opening.
"This is a cause close my heart. At FORE, we work hard to provide our young champions exciting opportunities in their sport. Make-A-Wish is granting game changing opportunities to children with life-threatening medical conditions. It's something everyone can get behind," said Ryan Steenberg, owner of FORE Performance.
The grand opening charity event will feature a Hole-in-One Contest in state-of-the-art aboutGolf simulators, presenting a 2014 Toyota Corolla as a grand prize. FORE Performance hopes to raise $10,000 for the Make-A-Wish Foundation.
As well as the Hole-in-One Contest, the two day open house will feature equipment demos, free group fitness classes, and catered hors d'oeuvres. All ages are welcome. Event hours are Friday, November 1: 6 p.m. - 9 p.m. and Saturday November 2: 9 a.m. - 2 p.m.