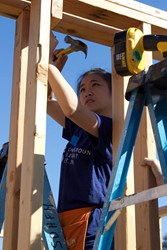 Our employees are committed to giving back.
San Diego, California (PRWEB) October 21, 2013
Underground Elephant, a San Diego based technology company, partnered with Habitat for Humanity's Building for the Brave, and participated in an all-day event by constructing the first Building for the Brave home in Lakeside, CA.
This project was a first for San Diego Habitat for Humanity's Building for the Brave program. The organization stated "The homes will allow us to serve those who have served us, by providing 4 townhomes for affordable homeownership by disabled veterans and their families." Each townhome will be outfitted with state-of-the-art finishing's adapted to the special needs of military veterans.
Underground Elephant's mission is to help the local community. "Our employees are committed to giving back, and are dedicated to volunteering our time to great organizations such as Habitat for Humanity," said Taylor Butler, Director of Human Resources. Underground Elephant values Habitat for Humanity's commitment to create homes for low-income families in need, especially our military veterans.
For more information regarding the Building for the Brave program, please visit Habitat for Humanity website at http://www.sdhfh.org.
About Underground Elephant
Founded in 2008, Underground Elephant delivers innovative, SaaS marketing performance platforms and the highest quality customer calls, clicks and inquiries. Our cloud-based platforms reduce customer acquisition costs through hyper-targeted prospect sourcing, profiling, distribution and rigorous data analytics.
About Habitat for Humanity
In 2013, Habitat is celebrating 25 years in San Diego County, building a total of 189 homes and changing the lives of 809 men, women and children with the help 156,000 volunteers.
Habitat for Humanity exists through volunteer labor and contributions of money, land and materials, including purchases and donations to ReStore, SDHFH's building supply thrift store. For more information, visit http://www.sdhfh.org or call 619-283-HOME (4663).