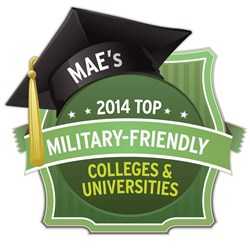 Another magazine, G.I. Jobs, also has honored Embry-Riddle as a Top Military-Friendly University -- for the third year in a row.
(PRWEB) October 18, 2013
For the fifth year in a row, Military Advanced Education (MAE) has honored Embry-Riddle Aeronautical University as one of the best schools for active-duty military and veterans in its 2014 Guide to Top Military-Friendly Colleges & Universities.
The Guide, which will be published in the magazine's December issue and online at http://www.mae-kmi.com, helps potential students compare institutions based on their features and benefits in the categories of Flexibility, Financial Assistance, Military Culture and especially Support Services.
"Our staff used strict criteria to evaluate the submissions of the respondents, and we had a record number of schools participating this year," said Kelly Fodel, MAE editor. "We believe the Guide is an invaluable tool for education services officers and transition officers when advising servicemembers about their educational opportunities."
The latest figures show Embry-Riddle's military and veteran enrollment at 12,239 at the Worldwide Campus, 517 at the Daytona Beach, Fla., campus and 186 at the Prescott, Ariz., campus.
Leading Embry-Riddle's efforts are Drew Hill, director of Military & Veteran Student Services, Worldwide Campus; Faith DesLauriers, director of Military & Veterans Enrollment & Transition Services, Daytona Beach Campus; and Daniel Lupin, director of Financial Aid & Veterans Affairs, Prescott Campus.
"We're very proud to win this recognition once again," Hill said. "Embry-Riddle is committed to supporting active-duty military, veterans and their families in every way possible, continually reviewing and improving our services and offering degrees of the highest academic quality."
In addition to the continuing honors from Military Advanced Education, another magazine focused on servicemembers, G.I. Jobs, named Embry-Riddle a Top Military-Friendly School in 2012, 2011 and 2010.
Embry-Riddle has served the military since World War II, when more than 25,000 American and British pilots and mechanics trained at Embry-Riddle facilities in South Florida.
Today, Embry-Riddle offers a broad array of degree programs from the associate to the doctoral level in aviation, aerospace, business, technology and related fields. Its Worldwide Campus has more than 150 military and civilian locations in the United States, Europe, Asia and the Middle East and also offers online instruction. The university currently has a $23 million, 10-year contract with the U.S. Department of Defense that maintains the university's long-time status as the sole provider of aviation-related degree programs to U.S. military stationed in Europe.
In addition, Embry-Riddle hosts on-campus Reserve Officers Training Corps programs at its two residential campuses. The Daytona Beach Campus offers Air Force, Army and Naval ROTC. The Prescott Campus offers Air Force and Army ROTC. These Air Force ROTC detachments form the largest university-based Air Force commissioning source in the nation. The detachments also produce more commissioned officers and more pilots and other rated officers for the Air Force than any other institution in the nation except the Air Force Academy.
About Military Advanced Education
Military Advanced Education (http://www.mae-kmi.com) serves education services officers and transition officers at every U.S. military installation, along with the servicemembers they counsel. Published 10 times yearly, MAE's editorial coverage includes exclusive interviews with military executive leadership, educators and members of Congress; best practices; career and transition spotlights; servicemember, school and program profiles; and periodic special reports.
About Embry-Riddle
Embry-Riddle Aeronautical University, the world's largest, fully accredited university specializing in aviation and aerospace, is a nonprofit, independent institution offering more than 40 baccalaureate, master's and Ph.D. degree programs in its colleges of Arts and Sciences, Aviation, Business and Engineering. The university is a major research center, seeking solutions to real-world problems in partnership with the aerospace industry, other universities and government agencies.