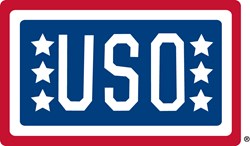 We make up heroes for a living," said Coben. "Now we get to meet real-live ones and express in some small way our gratitude. I can't imagine a greater honor.
Arlington, VA (PRWEB) October 18, 2013
Twitter: @HarlanCoben, @philmargolin, @fpaulwilson, @KathleenAntrim, @HeatherGraham to make @the_USO Visit to DC Oct. 24
WHAT: "Operation Thriller IV" USO Tour
WHO: Harlan Coben, No. 1 New York Times bestselling author of SIX YEARS, STAY CLOSE, LIVE WIRE, CAUGHT, LONG LOST, and HOLD TIGHT
Phillip Margolin, author of 17 New York Times bestselling legal thrillers, including SLEIGHT OF HAND, and former criminal defense attorney for over a quarter of a century
F. Paul Wilson, New York Times bestselling author of the Repairman Jack novels, including DARK CITY, and winner of the Bram Stoker Award for Lifetime Achievement
Kathleen Antrim, award-winning author of CAPITAL OFFENSE, journalist, columnist and radio personality
Heather Graham, New York Times bestselling author of more than a hundred novels including her most recent novel, THE NIGHT IS FOREVER
WHEN: October 24, 2013 – November 1, 2013
WHERE: Multiple locations including Virginia, Maryland, the District of Columbia, Germany, an undisclosed military base in the Middle East and the United Kingdom
Note: Due to security reasons, not all of the countries can be released at this time.
WHY: In an effort to bring troops and their families stationed in the Middle East, Germany and the United Kingdom special moments this Halloween season, the USO is once again deploying five bestselling thriller authors abroad as part of the "Operation Thriller IV" USO/Armed Forces Entertainment tour October 24 – November 1. Unlike any "Operation Thriller" USO tour in its series, this year's installment will kick off with a three-day visit to the nation's capital.
Jam packed with special moments, the "Operation Thriller IV" USO tour is scheduled to officially begin with an autograph signing at the newly constructed 25,000 square foot USO Warrior and Family Center at Fort Belvoir. The center opened its doors in February 2013 and is the largest center in USO history to support wounded, ill and injured troops, their families and caregivers as well as local active duty troops, reservists, members of the National Guard and their families. The center is open daily and is operated by the USO of Metropolitan Washington.
The tour will continue with a visit to Walter Reed Bethesda National Military Medical Center to visit wounded, ill and injured warriors followed the group's attendance at the 2013 USO Gala, where they will extend their congratulations to this year's Service Member of the Year honorees. The first leg of the tour will conclude with a trip to Quantico Marine Corps Base.
This trip marks the fourth installment of "Operation Thriller," which has deployed 14 award-winning authors to seven countries and brought a touch of home to hundreds of troops since 2010. It is the second USO experience for Antrim, who traveled to the Middle East on last year's tour and the first for Coben, Margolin, Wilson and Graham.
All five authors are proud members of the International Thriller Writers (also known as ITW), the nation's first and only professional organization devoted solely to authors (both fiction and nonfiction) who write books broadly classified as "thrillers."
QUOTES: Attributed to Harlan Coben:
"We make up heroes for a living. Now we get to meet real-live ones and express in some small way our gratitude. I can't imagine a greater honor."
Attributed to Phillip Margolin:
"Every day thousands of men and women in our armed forces risk their lives so I have the freedom to write my novels or play with my grandchildren or just play golf without fear. This tour is my way of thanking them for the sacrifices they make for me and every other American."
Attributed to F. Paul Wilson:
"I am honored to be included on this tour. I've spent more years than I care to number spinning tales about fictional men and women who face down threats to their values and way of life. Now I get the chance to mix with the genuine article and thank them for putting themselves in harm's way."
Attributed to Kathleen Antrim:
"As thriller writers, we write about larger-than-life heroes, but nothing that we write can compare to the real life heroes in our military. It is such an honor to travel with the USO and spend time with our real heroes. Those who sacrifice so much to stand between us and those that would do us harm. We owe so much to these men and women and to the USO, a fantastic organization that quietly serves our military."
Attributed to Heather Graham:
"Throughout my life, I have been in awe of and amazed and humbled by our troops, past and present. What they do for me, for all of us, is so great that it can't be quantified. I am humbled and privileged to be given a chance to cast a drop in the bucket that should be filled a thousand times over for the services our men and women in uniform perform for our country. There is no way to really thank them."
NOTE: The USO is always by the side of our troops and their families around the world, with events like this "Operation Thriller IV" USO tour. Visit USO.org to learn more about the USO and how it supports those who need us most - our nation's deployed troops, military families, wounded ill and injured troops and their caregivers as well as families of the fallen.
About the USO
The USO lifts the spirits of America's troops and their families millions of times each year at hundreds of places worldwide. We provide a touch of home through centers at airports and military bases in the U.S. and abroad, top quality entertainment and innovative programs and services. We also provide critical support to those who need us most, including forward-deployed troops, military families, wounded warriors and families of the fallen. The USO is a private, non-profit organization, not a government agency. Our programs and services are made possible by the American people, support of our corporate partners and the dedication of our volunteers and staff.
In addition to individual donors and corporate sponsors, the USO is supported by President's Circle Partners: American Airlines, AT&T, Clear Channel, The Coca-Cola Company, Grand Canyon University, jcpenney, Jeep, Kangaroo Express, Kroger, Lowe's, Northrop Grumman Corporation, Procter & Gamble and TriWest Healthcare Alliance and Worldwide Strategic Partners: BAE Systems, The Boeing Company, Lockheed Martin, Microsoft Corporation and TKS Telepost Kabel-Service Kaiserslautern GmbH & Co. KG. We are also supported through the United Way and Combined Federal Campaign (CFC-11381). To join us in this patriotic mission, and to learn more about the USO, please visit uso.org.
###