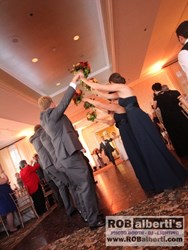 The Knot's Best of Weddings - Rob Alberti
Holyoke, MA (PRWEB) October 20, 2013
Just announced - The Knot Best of Weddings and Wedding Wire Rated winners, Rob Alberti's Event Services offers years of experience and expertise in working as one of the most requested Western MA Wedding DJ. The company creates personalized wedding entertainment for soul-mates and trend setters who are interested in a fun wedding that is not cheesy or embarrassing to their guests. Professional Wedding Event Directors on staff work with couples in the Western MA area to provide them with a wide variety of services including their creative wedding lighting that is anything but ordinary for your wedding.
For many modern couples, traditions of the past are giving way to innovative ways to stage a memorable wedding. More and more modern couples are drawing on their own creativity to add personal touches to their Western MA Wedding through their Disc Jockey Entertainment. "We have received rave reviews for our Western MA Weddings from the Berkshires to Worcester," says owner Rob Alberti. "But as far as our professional staff is concerned, it does not matter if the wedding is held in the Garden House at Look Park or The Wheatleigh Hotel in Lenox."
Rob Alberti's Event Services provides professional wedding disc jockey entertainment, lighting design services that will enhance any setting and create the exact mood the couple is trying to achieve.
About Rob Alberti's Event Services
Check out our youtube video: http://www.youtube.com/watch?v=QO1r40A7tV8.
Rob Alberti began working as a DJ in 1983 and personally performs at over 100 events every year. He has been chosen to be on panels at the International DJ Expo and has also been a contributing writer for national trade publications like Mobile Beat Magazine & DJ Times. The company was rated by local brides and voted 'The Knot Best of Weddings' for 4 years as well as being honored by WeddingWire.com with the Bride's Choice Award - 2009-2013.
Contact:
Rob Alberti
Westfield, MA
413-562-2632