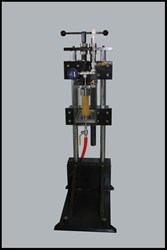 Cypress, Texas (PRWEB) October 20, 2013
The strength and toughness of Drake Plastics' Torlon polyamide-imide (PAI) Seamless Tube® contribute to increasing the flying range of the F-16 Fighting Falcon. Drake was recently awarded a contract to produce fuel system connects for 600 gallon wing-mounted drop tanks which extend the range of this popular allied aircraft.
Torlon 4203's high strength-to-weight ratio coupled with extreme temperature resistance and high dielectric strength make it the ideal choice for both fuel and air connects that are critical components of the auxiliary fuel system.
Initially the fuel connects were made of stainless steel in order to endure operating temperatures up to 450°F from compressed air driving fuel from the tanks.
A subsequent requirement was to electrically isolate wetted fuel parts between the tank and airframe for lightning strike protection. Torlon 4203 PAI was selected, and the second generation connects were injection molded by a third party producer. The 8.0˝/200mm part length created molding challenges such as knit lines and seams however. The presence of these problematic conditions led to failures, necessitating pressure testing of each part up to 700 psi to ensure part integrity.
The third generation connects are now machined from Drake's Torlon 4203 Seamless Tube. As the name implies, Seamless Tube does not have seams or weld lines, eliminating the risk of weld line failures and providing strength and toughness that injection molded Torlon parts cannot match.
Drake's support of this program includes designing and building a hydraulic pressure test system. The test apparatus applies internal pressure to the cylindrical parts without any support on the OD. Although 100% of parts produced have passed the specification requirements, the high strength of Torlon Seamless Tube has made testing parts to failure a real challenge. Drake's Engineering team has increased the pressure capability of the test stand multiple times and has not been successful in rupturing a single part. Fabricated connects from Drake's Seamless Tube now exceed the customer's specification by five times.
About Drake Plastics
Founded in 1997, Drake Plastics pioneered the production of stock shapes from glass reinforced Torlon 5030 in support of the Javelin Missile Program. Drake offers a continually expanding portfolio of machinable shapes, injection molded parts and precision machined components from Torlon and specialty PEEK. Drake is an ISO 9001-2008 registered, lean manufacturer. Waste and inefficiency are relentlessly driven out contributing to Drake's ability to develop and produce unique, high quality engineering plastic products. Drake delivers to customers around the world, on time with exceptional service and support.