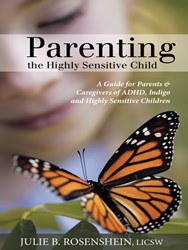 Florence, MA (PRWEB) October 21, 2013
In 2010, more than 263 million stimulant prescriptions were given to American children.
The need to over-stimulate, over-plan and over-work US children has created an unsupportive environment that Julie Rosenshein hopes to change.
In her new book, Parenting the Highly Sensitive Child, she offers an opportunity for parents and families to restructure their lives and better understand their children.
The guidebook establishes how the children of the 21st century are different than those of the past and offers a special approach to understanding them. It provides readers with unique parenting techniques as well as teaching ideas for educators. In addition, the book focuses on "Indigo" children and those diagnosed with Attention Deficit Hyperactivity Disorder.
It offers a wealth of knowledge on essential topics such as the labels we give our children, dealing with anger, depression and anxiety, right-brain learning in a left-brain world, parenting strategies and the family system.
Rosenshein used her first-hand experiences from growing up as a highly sensitive child in a traditional family as inspiration to identify with readers. Pairing her childhood background with her professional experiences as a licensed psychotherapist and public school counselor, she hopes parents and families will find the book as a quick and easy read that can swiftly be utilized at home.
"My hope is that families will take away the knowledge and apply the book's hands on approach to parenting and accept their children as they are," Rosenshein says.
Overall, the book offers parents the nuts and bolts of healing children by teaching parents to open their minds and seek solutions for their children that do not just involve stimulant medication.
Parenting the Highly Sensitive Child by Julie Rosenshein
Softcover $12.99, 978-1-45256-692-4, E-book $3.99, 978-1-45256-691-7
Amazon.com, barnesandnoble.com, balboapress.com and wholechildandparent.com
About the author
Julie Rosenshein is a licensed psychotherapist and public school counselor. She has trained at Columbia University School of Social Work and Ackerman Family Institute in Manhattan. She has worked with children and families for over 20 years.
# # #