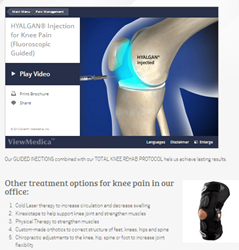 Viscosupplementation is one such treatment that's easy, painless and can make a world of difference.
Jersey City ,NJ (PRWEB) October 18, 2013
As Baby Boomers reach their senior years, the active lives of millions risk becoming hampered due to the onset of Arthritis. However, while many opt for invasive surgery including total knee replacements, one of New Jersey's top Medical Doctors makes it clear that modern treatments can do away with the need for surgery altogether.
Dr. Leonard Lachman, part of the renowned team at Advanced Rehabilitation of Jersey City, is confident that taking advantage of these new treatments can make a difference to not only the need for surgery, but to the ongoing health and wellbeing of Baby Boomers everywhere.
"It's all about early intervention. Just like a car, the knee requires good 'oiling' to keep movement fluid and avoid bone-on-bone contact. When this lubrication and cartilage wears away, the scraping of bones causes the pain synonymous with Arthritis. However, this now doesn't have to be the norm thanks to huge leaps in modern treatments," says Dr. Lachman.
Continuing, "Viscosupplementation is one such treatment that's easy, painless and can make a world of difference. With this treatment, a preparation such as Hyalgan is injected into the knee joint and essentially lubricates everything. This reduces the risk of developing Arthritic and hence the need for surgery or a knee replacement."
Dr. Lachman is also diligently warning Baby Boomers that the surgery itself isn't the only hassle.
"The recovery period for a total knee replacement is very long, taking up to six months for most patients to regain full activity levels. Of course, as the new knee is synthetic, it will never be as fluid or natural as your original. This furthers the importance of preventative care. With an abundance of modern treatments out there, maintaining ongoing joint health is easier than ever before," he adds.
With a wide range of options available, individuals are urged to book a arthrititis evaluation as soon as possible.
For more information on Advanced Rehabilitation of Jersey City, visit http://www.jerseycitypainmanagement.com.
About Dr. Leonard Lachman, M.D.
A Primary Physician with thirty years of experience. He fluently speaks Spanish and English. He has experience with pain management including trigger point injections and is certified in manipulation under anesthesia (MUA).
Contact:
Dr. Laurence Oliviero
drlarry(at)arjcllc(dot)com
201-624-2111