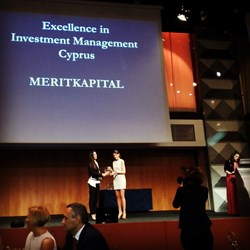 Limassol, Cyprus (PRWEB UK) 20 October 2013
CySEC licensed Meritkapital Ltd (MK) received an award for "Excellence in Investment Management" by IAIR Awards for 2013. This is the second investment management award that MK received for the year 2013 and it is largely attributed to the diversification of clients' funds in low risk financial products and across reputable global custodians. Throughout the subprime and Eurodebt crisis, MK has exhibited strong results relative to competitors. Moreover, it has remained unscathed by the bailout terms imposed on the Cypriot banking sector by the Troika in March 2013.
MK received the IAIR award at the LSE Group in Milan, and represented Cyprus amongst a pool of other international investment groups that included Vnesheconom Bank (VEB), FX Pro and Uni Credit, amongst others.
We strive to develop our quality and breadth of services further by benchmarking across globally established, financial industry players.