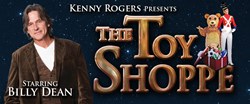 A glorious, homespun, family delight! Delicious, warm, loving and fun.
Branson, MO (PRWEB) October 19, 2013
Country music's BILLY DEAN has been recruited by KENNY ROGERS to play the lead role in this year's edition of the critically-acclaimed Broadway-style Christmas production, THE TOY SHOPPE at Starlite Theatre in Branson, MO.
The Toy Shoppe starring Billy Dean kicks off on November 1st and will continue through December 30th. The original music and story were written and arranged by music legend Kenny Rogers and producer/director Kelly Junkermann. Dean will take on the role of Toy Shoppe owner Hank Longley, normally played by Rogers.
"I'm over the top about getting to play Hank Longley in The Toy Shoppe," notes Dean. "This is normally Kenny's role so I've got some big shoes to fill. But I promise to give it my all and make Kenny proud!"
Longley's Toy Shoppe has been filled with magic, wonders and miracles for nearly 100 years. It is a place where toys come to life and children gather to hear owner Hank Longley tell stories. The audience joins Hero the Dog, Cheeseball the Mouse, Bruno the Bear and Hank Longley in this story of love, faith and appreciation for the value of every individual. The story is full of old-fashioned values and is great entertainment for the entire family. The original music from the production features eleven songs co-written by Kenny Rogers as well as several holiday classics.
Dean adds, "This is such a great Christmas story for the kids and the whole family. I've already teared up a time or two while reading over my lines."
Eleven year-old Chloe Channel, finalist in 2013 America's Got Talent, has also joined the cast. "There are a lot of people who can sing the notes, but very few who can make you believe the passion and the joy of the musical journey. My friend Billy Dean certainly can do all of those things and when I listened to Chloe, I knew she would be very special as well," says Kelly Junkermann.
Speaking of special, Nick Young, Taylor Bugos and Jillian Burgos, who starred in the original production on Broadway as little kids, are back playing the adult roles. "What a joy it is to have them, at any age, they understand the importance of the play's message," said Kenny Rogers.
"It's very rewarding watching these kids grow up and advance their careers. Taylor just appeared in the new Jimmy Buffet/Toby Keith video, Nick made it to the top 20 in "So You Think You Can Dance" and Jillian was in Nashville working on her new album" says Junkermann.
Billy Dean first gained national attention after appearing on "Star Search" and has recorded 8 studio albums, of which 4 have been certified "Gold." He has generated 20 hit singles on the Billboard Country charts including 11 Top Ten hits. His biggest hits include "Billy The Kid" and "Let Them Be Little."
Tickets are available now through the Starlite Theatre website http://www.starlitetheatre.com or by phoning the box office at 866-991-8445. Don't miss your chance to see what the New York Times has called "A glorious, homespun, family delight! Delicious, warm, loving and fun."
The Starlite Theatre is Branson's premier live entertainment destination and is home to the Texas Tenors, Larry's Country Diner and Larry Gatlin & The Gatlin Brothers.