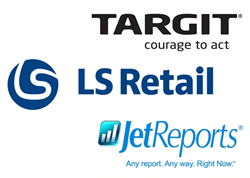 The partnership with Jet Report and TARGIT combines all the best features from three great companies.
Reykjavik, Iceland (PRWEB) October 22, 2013
LS Retail has entered into a strategic partnership with Jet Reports and TARGIT to deliver a new groundbreaking Business Intelligence solution. This BI solution, developed for the retail industry, is built on Microsoft Dynamics NAV.
This solution will combine the LS BI solution with Jet Reports' award winning data warehousing solution and with TARGIT's advanced analytics platform. This solution will give retailers immediate access to key metrics for areas such as Sales, Member Management, Loss Prevention, Inventory, and Finance. The customer gets lightning fast analysis, enabling them to instantly make better decisions based on accurate and up-to-date information. Through forging this partnership, LS Retail offers retailers one BI solution that provides organizations with hundreds of metrics that can be accessed using desktop, web, and mobile applications across the globe. A turnkey, same-day implementation that will deliver immediate ROI, allowing retail businesses to access key data within hours instead of having to wait weeks or even months.
Retailers will now have the ability to quickly get insights into metrics such as: Item profitability by store, hourly sales statistics by POS terminal, and advanced basket analysis to determine which items are frequently purchased with other items. Reports such as these will enable retailers to refine their marketing by altering advertising campaigns, analyzing salesperson performance or deleting unprofitable lines.
"The partnership with Jet Report and TARGIT combines all the best features from three great companies: Jet Reports bring a tried and tested BI solution on the NAV platform, TARGIT bring their world-class reporting platform and LS Retail brings the retail expertise. We can't imagine a better Business Intelligence platform for the customer," says Ulfar Helgason, LS BI Product Manager at LS Retail.
TARGIT's top rated intuitive interface, coupled with Jet Reports' leading back-end technology, is the world's most intuitive and powerful BI solution to date.
About LS Retail:
LS Retail is a world-leading provider of comprehensive software solutions and services based on Microsoft Dynamics and Microsoft technology for the retail and hospitality industries.
These scalable solutions manage the very large and complex operational requirements associated with different types of retail and hospitality organizations, such as fashion, electronics, furniture, duty free, restaurants, coffee shops and many more.
What sets LS Retail apart from other solution providers on the market is the unique use of a single application to integrate the entire business from point of sale (POS) terminals through store management, inventory, merchandising, back office, head office, demand planning, business intelligence and omni-channel retailing to management of sales channels, including mobile and e-commerce.
For over two decades, LS Retail has been developing market leading software solutions for retail and hospitality that are currently used by over 45,000 stores worldwide, and are sold and supported by more than 150 certified Microsoft and LS Retail partners in over 60 countries.