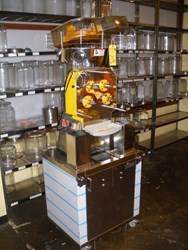 Chicago, IL (PRWEB) October 19, 2013
Fox & Obel closed its doors on October 6, 2013 and will now be auctioning off the bakery equipment, kitchen equipment, refrigeration displays, bistro & café equipment and much more! The auction will be held on October 23, 2013 beginning at 10:00 AM CST. For details or additional information regarding the auction, visit hyperams.com.
Fox & Obel had been recognized as the best gourmet food market in Chicago. The company has provided the area with vast food choices sourced from near and far: freshly baked artisanal breads and pastries; the world's finest cheese and charcuterie; prime beef dry-aged on premise; fresh fish and seafood that was flown in daily; an A-list of boutiques wine and microbrews; cutting-edge finds from the specialty food world; a fresh unique assortment of produce.
Assets to be included in the sales are; Mondial Forni gas bread oven, Hobart floor mixers, Hobart stand mixers, Rondo Doge reversible dough sheeter, Sancassiano Industrial mixer, Zumex juicer, Hobart scales, Berkell meat slicer, Hussmann display coolers, Hussmann compressor, Hobart meat tenderizer, Hobart meat mixer, Hobart meat cutting band saw, Cascade gas-fired rotisserie, smoker, racking, dishware and much more.
Inspection will be held on October 22 from 9:00 AM – 4:00 PM CST. The store is located at 401 E Illinois Street, Chicago IL. Please visit hyperams.com for additional information.
About HYPERAMS, LLC
HYPERAMS will dispose of and/or invest in your surplus assets- whether your company is healthy or distressed. HYPERAMS focuses on providing optimal recovery value for your surplus assets by purchasing and managing the resale, collection or redeployment of: inventory, machinery and equipment, commercial accounts receivable, retail store closings, and outlet center management and fixture sales.
Do you know what your assets are really worth? Our appraisal services will answer that question by providing a quick, accurate appraisal in a wide range of industries. Whether you need to know the value of a single piece of equipment or the total value of a plant's complete asset listing, HYPERAMS is here to help you.