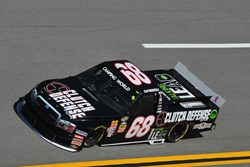 NASCAR is the best marketing platform available. Nowhere else in the advertising world are we able to reach this number of ultra-loyal, patriotic Americans.
Warrenton, MO (PRWEB) October 18, 2013
Clutch Defense, a tactical and disaster preparedness store, will make its NASCAR Camping World Truck Series debut as the primary sponsor of Clay Greenfield and the #68 Dodge during the Fred's 250 at Talladega Superspeedway on Oct. 19.
"We are very excited to launch our new E-Commerce website http://www.clutchdefense.com in NASCAR with driver Clay Greenfield at Talladega." said Lloyd Wideman, Principal Owner of Clutch Defense. "NASCAR is the best marketing platform available. Nowhere else in the advertising world are we able to reach this number of ultra-loyal, patriotic Americans. Clay represents the entrepreneurial spirit of our small start-up business. Competition in the market is tough, just like it is on track and he is one heck of a capable driver who can get the job done."
Clutch Defense is a Missouri start-up company that will carry specialized gear and apparel for Law Enforcement / EMS personnel, offer survival and home defense products to civilians, along with providing education and instruction in disaster preparedness.
According to National Geographic, over 3 Million people in the United Sates have become "preppers" in the last year. A recent survey asked, "Which of the following, if any, do you think might happen in the United States in the next 25 years?" Earthquakes (64%), hurricanes (63%) and terrorism (55%) are the most feared, followed by financial collapse (51%), and a pandemic (29%) Regardless of the incident, more than 62 percent Americans think the world will experience a major catastrophe in less than 20 years. And nearly three out of every four people (71%) envision a major disaster in their lifetime as an act of God, not man.
"This is a great opportunity for my team." said Clay Greenfield. "With all the natural disasters that have happened over the past few years, it is evident that people need to be more prepared for any emergency. Partnering with Clutch Defense at Talladega is perfect environment to get noticed and help educate people. This weekend we are setting the corner stone of a long term relationship."
Clay will carry a decal supporting Ryan and Krissie Newman's Rescue Ranch, http://www.rescueranch.com a non-profit animal welfare organization located in Statesville, NC. The Ranch conducts a variety of programs aimed ending pet overpopulation and associated suffering by promoting and providing for the humane care, protection and control of domestic animals.
Also on board as an associate sponsor with the #68 Dodge is "Talking Lead", a fun loving radio show about all things guns. http://www.talkinglead.com/
Fred's 250 at Talladega Superspeedway will be televised live on FOX Sports 1 on Oct. 19 at 4pm EST.
Motor Racing Network - "The Voice of NASCAR" - will provide live coverage of Saturday's Fred's 250 beginning at 3:30 p.m. (ET), with live streaming at MotorRacingNetwork.com
About Clutch Defense: Clutch Defense is a subsidiary of Grey Stone Square Inc. that specializes in providing active duty wear to Law Enforcement and EMS, as well as offering disaster preparedness education, preps and camping gear to the community. For more information on our company, visit http://www.clutchdefense.com Connect with us on our Facebook page at facebook.com/ClutchDefense, follow our tweets at twitter.com/Clutch_Defense.