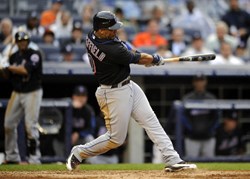 "Gary always tells it like it is," said veteran sports and entertainment attorney, Xavier D. James, who with Sheffield co-founded Sheffield Management Company in Tampa, Fl. "That's what viewers want to hear and that's what makes him compelling."
(PRWEB) October 19, 2013
Sheffield Management is pleased to announce that legendary MLB slugger Gary Sheffield brought his trademark on-field ferocity, off-field charm and love of baseball to TBS as a guest announcer during the MLB Pregame shows on TBS.
"Gary always tells it like it is," said veteran sports and entertainment attorney, Xavier D. James, who with Sheffield co-founded Sheffield Management Company in Tampa, Fl. "That's what viewers want to hear and that's what makes him compelling."
Sheffield is a former Major League Baseball player who played for eight different teams in his 22-season MLB career. Sheffield, who came up as a shortstop, has spent the majority of his career as an outfielder. In 2009, he became the 25th member of the 500 Home Run Club, and the first player in MLB history to hit his 500th career home run while playing for the Mets.
Today Sheffield is the CEO of a groundbreaking management firm, Sheffield Management and Entertainment Group. Sheffield Management provides comprehensive advisory services to professional athletes and entertainers. In addition to a staff of legal and financial professionals, Sheffield Management will partner with other former professional athletes and entertainers to facilitate client management.
"As a former professional athlete, I know very well the issues that athletes confront both on and off the field," said Sheffield. "The goal of this company is to not only negotiate sports and entertainment contracts but also prepare clients for life during and after their careers."
Sheffield Management is co-founded by veteran sports and entertainment attorney, James, who brings years of contract negotiation experience to the company – including experience working with prominent professional athletes and as in-house legal counsel at several major corporations.
"This company is more than just a management agency," said James. "We want to give clients the tools for success and provide them with on-going support."
For more information about Sheffield Management, please visit http://www.sheffieldmanagementgroup.com.