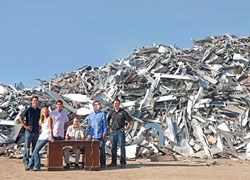 "The opportunity to serve the community and expand the Gold Metal Difference through South Texas is an exciting step in the right direction!"
Dallas, TX (PRWEB) October 24, 2013
Dallas-based Gold Metal Recyclers has added a new recycling affiliate in Bryan/College Station, Texas. Brickyard Metal Recycling has averaged over 100 tickets per day since opening its doors to the public last February.
Brickyard Metal Recycling's close proximity to Houston, Austin, and San Antonio allows Gold Metal Recyclers to better serve clients and partners in South and Central Texas.
Brickyard Metal Recycling will continue its longstanding tradition of providing cost-effective, environmentally-friendly metal recycling services to the Bryan/College Station market. As an affiliate of Gold Metal Recyclers, the company will also have access to additional resources that will allow it to better serve its clients and partners in the future. Gold Metal believes the opportunity to serve the community and expand the Gold Metal Difference through South Texas is an exciting step in the right direction.
Since its founding in 1976, family-owned and operated Gold Metal Recyclers has grown to one of the nation's largest privately-held metal recycling companies. Gold Metal recycles hundreds of millions of pounds of scrap electronics and metals annually, and employs over 400 workers at eight locations throughout the Southwest U.S.
Gold Metal Recyclers has a distinguished record of community service and corporate leadership. In 2010, Gold Metal was selected as one of Dallas Business Journal's Top 100 Private Companies and was the 2011 recipient of The Spirit of Centennial Award for community service to the Fair Park area of Dallas. In 2012, the company partnered with the Dallas Area Habitat for Humanity and has provided demolition and recycling services for a number of that organization's projects, including the "Fight the Blight" initiative.
Gold Metal Recyclers' co-founder Neil Goldberg says, "We're a family business based on family values. We treat our employees and neighbors like our family. When we take care of one another, we all succeed."
Gold Metal Recyclers' corporate recycling partners include numerous national and international companies, including Raytheon, Vought Aircraft and Alcoa Aluminum. The company was selected as the official recycler for the Texas Stadium and Reunion Arena demolition projects, and recycled 75,000 aluminum bleachers from the Cotton Bowl stadium.
About Gold Metal Recyclers:
Founded in 1976, Dallas-based Gold Metal Recyclers has grown into an international business employing over 400 workers at locations throughout the Southwest U.S. The company has served over three million customers , recycled over six billion aluminum cans, and donated thousands of dollars and countless hours to schools and charities in the communities it serves.