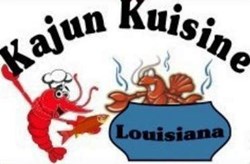 Not spicy... just seasoned right!
Universal City, Texas (PRWEB) October 18, 2013
The cafeteria style Cajun restaurant, Kajun Kuisine, is now officially open for business. The restaurant is located at 2053 Universal City Blvd. in Universal City.
Opening Kajun Kuisine restaurant has been a lifelong dream for owners David and Helen Roberson, who are Louisiana natives from Opelousas. David is a veteran who began his cooking career in the U.S. Army. As Christians, David and Helen opened Kajun Kuisine with a desire to honor God daily by serving others. Their love for both cooking and people has prompted them to open Kajun Kuisine. They aim to satisfy each customer by providing them with exceptional dining experiences at an affordable price.
The restaurant boasts a "Cajun Country" theme and uses a cafeteria serving style with the goal being to eliminate wait times. Their menu features authentic Cajun and soul food selections. Menu items include gumbo, crawfish etoufeé, braised beef ribs, meatloaf, fried catfish, smothered pork steaks, jambalaya, and fried and baked chicken. In addition to their entrée selection, the restaurant also offers soups, salads, sides and desserts. They feature weekday lunch specials on the Kajun Plate, and offer discounts for active and retired military personnel as well as for senior citizens on Tuesday & Thursday during dinner on the Kajun Plate.
For more information about Kajun Kuisine, visit http://www.kajunkuisine.com/, or call (210) 236-8834.
About the company:
David & Helen Roberson, owners of Kajun Kuisine, are Christians with a desire to honor God daily by serving others. Opening Kajun Kuisine has been a lifelong dream for them. David is a veteran who got his "cooking" start in the Army, and as a Louisiana native, David's cooking style is that of "Cajun Country."
With cafeteria style soul food, their goal is to eliminate wait time in line. They pride themselves on providing customers with delectable soul food dining experiences at affordable prices, and strive to make Kajun Kuisine your "go-to" place to eat in Universal City.