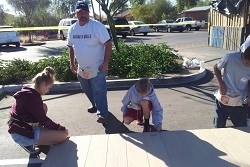 Phoenix, AZ (PRWEB) October 19, 2013
HALO.com Corporate Communication
Janette Petesch of HALO Branded Solution Phoenix along with Regional Vice President, Tomas Cohan and Account Executive Don Robinette from the HALO Denver office helped build homes for several families in Juarez, Mexico. In just one day, the team assisted in raising the walls for 3 homes and 2 computer rooms. The HALO members were kindly assisted by a foreign exchange student staying with Janette as well as the account executive's children. Janette was very touched by the event, saying;
"There are so many with needs beyond our comprehension in the year 2013 when our kids have iPads and iPhones. I feel so very grateful for this country and the opportunity to serve those less fortunate. We have the ability to give much if we take time."
To learn more about the event, visit the site.
About HALO Branded Solutions
HALO Branded Solutions, headquartered in Sterling, Illinois, is a leading promotional products distributor in the $18 billion per year promotional products industry, with regional account executives in key cities across the country including in the Phoenix-Scottsdale area. The company serves over 40,000 businesses and organizations offering the best, and most competitively priced promotional products, including a large selection of eco-friendly options supported by world-class customer service and a nationwide sales force of over 900 selling professionals.