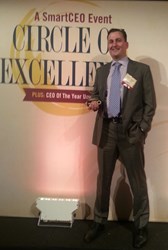 I'm privileged to work with such a talented and dynamic team at Alpha Card.
Philadelphia, PA (PRWEB) October 21, 2013
Lazaros Kalemis, CEO of Alpha Card Services, has been named the 2013 winner of the Philadelphia SmartCEO Circle of Excellence award, under the Professional Services category. Lazaros was chosen by an independent panel of judges, and recognized at the Philadelphia Circle of Excellence Awards ceremony on Thursday, Oct. 17, 2013 at Peche Sherman Mills in Philadelphia.
Thirty finalists were celebrated for their leadership in 10 industry categories and 10 winners were announced live at the event. This year's finalists collectively generate more than $1.9 billion in annual revenue and employ over 7,000 individuals in Greater Philadelphia. SmartCEO also unveiled the Philadelphia 2013 CEO of the Year.
The Circle of Excellence program, now in its third year of celebration in Philadelphia, kicked off with a nomination process ending June 2013. The Circle of Excellence awards honor leaders who have successfully taken their companies to the forefront of their chosen industries. The industries recognized this year were: Construction, Family-Owned, Franchise, Healthcare/Biotech, Hospitality, International Business, Manufacturing, Minority-Run, Professional Services and Real Estate.
"The SmartCEO award is truly a great personal honor and I'm humbled that the publication selected me to be the winner for the professional services category," said Lazaros Kalemis, CEO of Alpha Card Services. "I'm privileged to work with such a talented and dynamic team at Alpha Card, transforming our organization into an industry leader and world-class provider of comprehensive business solutions for our merchants."
Alpha Card Services, an Inc. 500 I 5000 company, has grown tremendously since its inception in 2000 and remains focused on adapting their award-winning services to meet the ever-changing business climate. Alpha Card Services, a Registered MasterCard® TPP and ISO/MSP of Wells Fargo Bank - Walnut Creek, CA and HSBC Bank, NA Buffalo, N.Y., was founded in 2000 as an agent and merchant friendly ISO. Within ten years the company has expanded their operations in both Pennsylvania and California, maintained zero hold times for over 5 years, and increased its product portfolio to credit and debit card processing, gift and reward cards, POS systems, Payroll services, merchant cash advances, ATM services, check guarantee services and will be introducing additional new products and programs throughout 2013.
Follow Alpha Card Services:
http://www.alphacardservices.com/facebook
http://www.alphacardservices.com/twitter
http://www.alphacardservices.com/blog
http://www.alphacardservices.com/linkedin