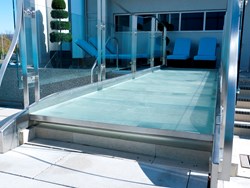 Glass certainly makes for an intriguing and spectacular flooring surface...
(PRWEB) October 24, 2013
Glass is probably not the first option that comes to mind when considering materials for floors and bridges. Bertrand Charest knows this. As President and Co-Founder of glass design and manufacturing studio ThinkGlass, he has made it his mission to educate the public about the strength and durability of glass.
Glass certainly makes for an intriguing and spectacular flooring surface, but it can also sometimes bring disquietude, concern or plain uneasiness. The truth is that all glass floors are not created equal.
"When most people think of glass, they think of the glass in their windows, which is indeed very fragile," explained Bertrand. "But when glass is crafted to the proper thickness – a minimum of 1.5 inches – it becomes as hard as stone."
ThinkGlass thick glass is an innovative new material composed of layers of glass fused together by extreme heat resulting in a strong and durable block of pure glass. The purity and luminescent quality of glass is preserved and ThinkGlass infuses strength into it with its 14 years of experience and expertise. The end result is a strong surface, able to withstand more than 300% the required weight (according to the Concentrated Load Test - Section 2409 of NYSBC).
Lightly textured to prevent slipping, these slabs of glass can be of great sizes depending of the structure they are placed on. These impressive glass slabs can also be beautiful work of art once ThinkGlass glass artist MAILHOT applies colors to them. A bridge or walkway that is seen from the lower level can become a decorative element and the privacy of the people is respected thanks to the textured, opaque glass.
Another way to enhance the glass floor, glass bridge or glass walkway is the addition of LED lights. Just like with the glass stair treads, the LED light brings out the luminescent qualities of glass and shows the richness of the texture. Lighting a staircase or a walkway brings also a security aspect and an amazing design element.
Different textures are available for this type of applications. Even if ThinkGlass offers more textures not all of them are suitable for walking on. The website shows the different textures available with a small description of the inspiration behind it.
Like all ThinkGlass applications, there is two glass colors available: Aqua, a greenish glass, and Crystal, an almost colorless glass perfect for glass art and LED additions.
About ThinkGlass
The ThinkGlass story began in 1999 in an empty room under the leadership of two creative individuals who were passionate about beautiful glasswork. Today, the company is one of the most successful glass design and manufacturing studios in the world with a shop that encompasses more than 30,000 square feet, 27 employees and 21 state-of-the-art, custom made ovens.
ThinkGlass is still headed by its two original founders – glass master Michel Mailhot who is the artistic soul of the company, and Bertrand Charest, a certified engineer and company president. Together with their talented team, they produce all manners of glass masterpieces, from residential kitchen to bath- room vanity countertops and backsplashes to fantastical sculptures, wall murals and floor tiles, and even large-scale commercial projects for restaurants, nightclubs and offices.
ThinkGlass quickly became a leader in the thermoforming industry by pioneering a versatile technique that allows the creation of new or repetitive textures. This process allows the creation of glass slabs without thickness constraints opening the door to all kinds of design possibilities. All ThinkGlass creations are made from 100% recyclable glass using sustainable practices and without the use of any adhesive or sealant potentially containing harmful volatile organic compounds (VOCs).
For more information about ThinkGlass products, visit thinkglass.com or call 1-877-410-4527.