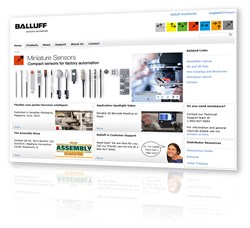 Mississauga, ON (PRWEB) October 21, 2013
Balluff Canada launches a new and expanded website available in both English and French. Based on our customers' feedback, our new website incorporates the latest search functionality along with enhanced product selectors. With thousands of world-class products, helping customers find exactly what they need was a primary goal for the new site.
For customers that already know what they need, our new search field offers a "look ahead" function that helps predict what you might be looking for. Results are organized into three groups based on the type of information found:

Products: Direct access to product datasheets
Webpages: Broader information on the products and their associated family
Technical downloads/literature: Direct access to support materials and literature
For new applications, our robust product selectors offer multi-dimensional methods to identify an exact solution. With a specific selector for each product category, navigating to an exact solution can be done based on our customers' most important criteria. The selection process can start with any or all of the physical, environmental, electrical, or special duty attributes. The selection process returns complete data on the part, including datasheets, product and wiring drawings, 2D and 3D files, and related accessories.
Visit http://www.balluff.ca to tour the new site!
About Balluff:
Balluff Canada Inc, a subsidiary of Balluff GmbH, Neuhausen, Germany, is a leading manufacturer of a wide range of inductive, photoelectric, vision, capacitive and magnetic sensors as well as linear position transducers, RFID systems, and networking products. Balluff products for OEM and factory floor solutions are used to control, regulate, automate, assemble, position, and monitor manufacturing, assembly, and packaging sequences for industries including: metalworking, automotive, plastics, material handling, wood processing, aerospace, alternative energy, medical, electrical, and electronics.