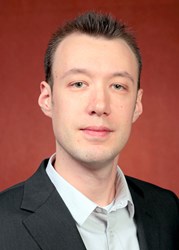 "The world is being transformed by exponential advancements in technology and every one of our lives and careers will be touched by these advancements. My role a a futurist is to be a catalyst for discussion – to help educators consider the future, today"
Tallahassee, FL (PRWEB) October 18, 2013
Thought-provoking keynote speaker, education futurist and author, Simon Anderson has been selected to deliver two keynote sessions later this month, one in the U.S. and one in Austria. On October 22, 2013, Anderson will keynote the Telekom Austria Group's "Future of Learning" event in Vienna, Austria where he'll discussing new technologies and trends that are transforming education and how corporate universities can use this to better position themselves for an uncertain future. The following week, Anderson will be speaking about key education and future of work trends with members of the Minnesota Community Education Association in Minneapolis, MN on October 30.
The presentations, drawing partially from Anderson's recent book "Foresight 20/20: A Futurist Explores the Trends Transforming Tomorrow" (co-authored with globally acclaimed futurist Jack Uldrich) will discuss trends and technologies that are impacting the future of education, including MOOCs, Adaptive Learning Platforms, and Mobile 3.0 devices that take learning outside the four walls of the classroom. He will also discuss the future of work, automation, and entrepreneurship trends in a fast-changing world.
In the past year, Anderson has addressed businesses and other organizations around the country including AT&T, Dakota Wesleyan University in South Dakota, GAI Consultants in Orlano, FL, Central Coast Business Symposium in Arroyo Grande, CA, and TalTech's TechExpo 2013 in Tallahassee, FL. His work was recently featured on the World Future Society's monthly newsletter and on their site, wfs.org.
Parties interested in learning more about Simon Anderson, his book, his blog or his speaking availability are encouraged to visit his website at: http://www.futur1st.com. Media wishing to know more about these or other events or interviewing Simon Anderson can contact him directly at 850-321-9472 or simon.anderson(at)futur1st(dot)com.