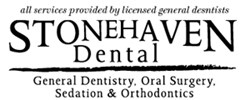 Salt Lake City, Utah (PRWEB) October 18, 2013
Stonehaven dentists in Salt Lake City are pleased to offer their new group plan coverage. By making this available to individuals who do not have insurance, they are making dentistry more affordable and accessible for individuals who many need it. The professionals at Stonehaven are aware of the high costs associated with dental work and know that it is becoming increasingly out of reach, especially for those who don't have insurance. In an attempt to close the gap between obtainable oral care and the patients without insurance, the company is introducing a group coverage plan. The plan is comprehensive and includes most routine services, proving to be a viable addition.
The exciting part about having a dental plan through Stonehaven is that there are no deductibles or yearly limits. Patients simply pay an annual fee and the plan will cover items like root canals and wisdom teeth extraction. In addition, Stonehaven Dental office in Utah has no health restrictions with their plan so pre-existing conditions don't have to stop patients from affording quality oral care. The coverage plan is available to individuals, couples, and families, with reasonable costs for each additional member.
Orthodontics or other cosmetic dentistry are often not covered by traditional dental insurance plans. Stonehaven dentists in Salt Lake City are excited to offer this coverage. Insurance plans require paying a monthly premium, plus meeting an annual deductible, which can limit dental work and keep patients from getting necessary procedures. By opting for the new group coverage plan offered by Stonehaven, individuals can be sure they are able to get the oral care that they need at a discounted price.
There are some limitations to Stonehaven group coverage plan which include referrals to specialists or if patients should need anesthesia or hospital stays. The plan is also not valid for use with any other insurance plan. There are no insurance claims forms to fill out with the plan, nor do patients have to receive pre-authorization. The discounted price on major procedures and the inclusion of regular check ups allows patients to obtain the oral care they need. Patients do not have to have pain or skip a cleaning when they opt to select Stonehaven group coverage plan. For more information about the plan, or to fill out a new patient form, visit their website at http://www.stonehavendental.com.