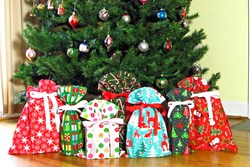 VZWraps fabric gift bags are an eco-friendly, convenient, elegant, and affordable alternative to traditional wrapping paper.
Haverford, PA (PRWEB) October 21, 2013
Avoid the trash bag full of wrapping paper scraps, wrinkled scotch tape, and torn plastic bows. VZWraps fabric gift bags are an eco-friendly, convenient, elegant, and affordable alternative to traditional wrapping paper. The company strives to reduce trash by providing a reusable alternative with easy-to-use, beautiful fabric gift bags.
The bags are made in the U.S.A. from imported organic and traditional cotton with attached ribbons made from recycled materials. The eco-grosgrain ribbon is made from 100% recycled plastic bottles, and the eco-satin is made from 100% post-consumer recycled polyester. Drop your gift in, tie the bag closed, and your wrapping is done! Reuse the bags for years -- the attached ribbons won't get lost.
Why use a fabric gift bag?

According to the Clean Air Council, an additional 5 million tons of waste is generated in the U.S. during the holiday season and a substantial portion of that is wrapping paper and shopping bags. Wrapping paper generally can't be recycled because it is dyed or laminated, contains non-paper additives, or is too thin to have good-quality fibers.
Wrapping gifts the traditional way is time consuming and often difficult for odd-shaped packages. Did you ever try to wrap a stuffed animal, a tennis racket, or a toy piano? Plus all those toys in clamshell packaging are just asking for a wrapping paper disaster.
Reusable paper gift bags have been a common trend in recent years for simple gift-wrapping, but they are flimsy and prone to falling apart after one or two uses. Plus they are generally made with non-sustainable and non-recyclable materials. A VZWraps fabric gift bag is a sustainable choice that will last forever.
VZWraps are the creation of Isabelle Vesey, a mother of two from Haverford, PA. Isabelle always enjoyed wrapping presents with beautiful papers and embellishments. However, as her environmental awareness grew she switched to recycled paper and reduced her use of plastic bows. But one recent holiday season when she went to gather her wrapping supplies, she just couldn't bring herself to wrap her presents in paper that was just going to get thrown away. After a trip to the fabric store, she got out the sewing machine, and stitched up some beautiful gift bags. Not only did they look great under the tree, there was no bag full of trash after the presents were opened and the bags turned out to be a welcome time saver during the busiest season of the year.
Bags come in a wide variety of styles and patterns and you can shop by occasion for Christmas, Hanukkah, weddings, showers, and birthdays. Prices range from $3.49 for a mini bag to $15.99 for a large gift bag.