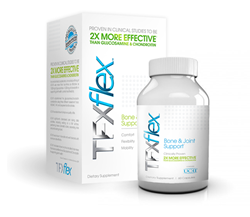 This product has been shown in clinical studies to be 2X more effective than glucosamine & chondroitin.
Salt Lake City, UT (PRWEB) October 22, 2013
TFX Health, LLC teamed up with GNC earlier this year to introduce TFX Flex™, a popular joint health supplement that has revolutionize the joint health industry. In addition to several important vitamins and joint health nutrients, TFX Flex™ contains a breakthrough new dietary ingredient that has been proven in human clinical studies to be 2X more effective than glucosamine & chondroitin for joint pain relief. After a year of robust sales at GNC.com, the product will expand to GNC retail outlets nationwide on November 1, 2013.
According to a TFX Health company spokesman, "GNC is the most important retail distribution channel for health and wellness products in general, and cutting edge new science in particular. The cooperation between the two companies was essential to make TFX Flex™ readily available for those seeking new and improved solutions to joint health problems."
Both companies share the view that joints can only be as healthy as the bones and muscles to which they are attached. TFX Flex™ combines clinically proven ingredients for bone, joint, and muscle support providing a safe and effective solution for the entire musculoskeletal system. Since its launch at GNC.com earlier this year, TFX Flex™ has become GNC's best selling triple threat product for bone, joint, and muscle health.
The launch of TFX Flex™ quickly captured the attention of the joint health industry after glucosamine & chondroitin, came under fire in a study published in the British Medical Journal. The study concluded that, "Glucosamine and chondroitin, either taken together or separately, have not shown a clinically significant improvement in joint pain relief for patients troubled with knee or hip osteoarthritis [BMJ 2010; 341:c4675].
A spokesman for TFX Health explained, "The science behind joint health is changing and consumers are actively looking for better alternatives. TFX Flex™ has been shown in clinical studies to be 2X more effective than glucosamine & chondroitin and it is the only product on the market that takes an overall approach to bone, muscle, and joint health." [Int J Med Sci. 2009; 6:312-321]
TFX Flex™ contains a breakthrough new dietary ingredient known as UC-II® Undenatured Type II Collagen that was developed by a team of scientists with more than 25 years of experience in the development of patented, clinically substantiated dietary ingredients. The new ingredient holds 7 international and U.S. patents and is supported by 9 clinical studies, including research at Harvard Medical School.
GNC.com has reported numerous positive reviews from its customers. G.Webb from Phoenix reported, "This product is seriously life-changing. I have been taking it for one week and I have noticed that I am becoming more and more flexible. It was nice to see a change happen so I am able to bend my knees normally again." W. Brennan of Satellite Beach, Florida explained, "It works for me where glucosamine and chondroitin didn't seem to work."
TFX Flex™ is scheduled to be available in GNC retail stores nationwide beginning on November 1, 2013.
To learn more about TFX Flex™ Joint Health Supplement, please visit http://www.TFXflex.com/ or visit your local GNC retail outlet.
About TFX Health, LLC
Based in Salt Lake City, TFX Health, LLC is an innovative pioneer in the development of advanced health and wellness products. All products are manufactured in the USA in FDA registered, GMP compliant facilities and sold worldwide through online and traditional retail channels.
UC-II® is a trademark of InterHealth N.I. Clinical data available upon request. U.S. Patents 5,645,851; 5,637,321; 5,529,786; 5,750,144; 7,083,820; 7,846,487, EPO Patent 1435906B1 and worldwide patents pending.