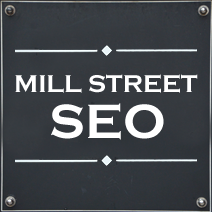 Toronto, ON. (PRWEB) October 22, 2013
Mill St. SEO, the Toronto-based digital agency, revealed a new content marketing service this week, targeted at small and medium-sized businesses with a need for a greater online presence. The agency launched the service in order to bolster businesses who face competition from their large scaled counterparts. In addition to market circumstances, forward-thinking companies realize the benefits of inbound marketing and now fully embrace it - a demand to which Mill St. SEO now caters.
The new content marketing service takes the form of a package - one that incorporates a mix of creative content, brand strategy, and measurement. In terms of brand strategy, the service includes research to identify the target audience as well as strengths/weaknesses the client possesses. For creative content, article marketing, blogging, and social media take precedence. Combined with search engine optimization (SEO), the service offers clients a cost-effective and measurable alternative to traditional advertising.
Previously, the company offered one product/package for all its capabilities, but recognized the benefit of offering content marketing as an all-encompassing service. The greatest advantage of the service is that it gives businesses greater control of their marketing efforts. They are able to use digital channels that don't require the purchasing of ad space and are trackable by nature. This means a reduction in cost for the clients and better targeting of their audience.
Content marketing has dominated the advertising world this year, and talk continues to build that it will have an even greater presence next year. Estimates put the value of content marketing expenditure at $118.4 billion by the year's end, and around 91% of B2B marketers make use of content marketing. Mill St. SEO acknowledges that failing to provide such an essential service would be defeating to their clients, and the statistics are there to support their view.
About Mill St. SEO
Mill St. SEO is a digital marketing agency based out of Toronto, Ontario. Established in 2010, the agency provides online marketing services to clients in the GTA, as well those outside of Canada. The agency has various digital capabilities, including Search Engine Optimization (SEO), social media marketing, and metric tracking. The company has assisted clients from a wide range of industries, including the legal and construction sectors.