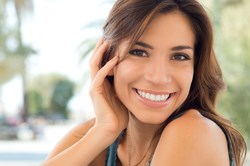 Pompano Beach, FL (PRWEB) October 28, 2013
Dr. Nicole M. Berger is pleased to offer a comprehensive range of dental services and extended Thursday office hours at South Florida Smile Spa.
Dr. Berger's cosmetic dentistry practice, which provides dental care to residents of Pompano Beach, Ft. Lauderdale, and other South Florida communities, will now be open on Thursdays from 11:00am to 7:00pm, giving patients an opportunity to undergo dental exams and treatments outside of regular work hours.
Extended Hours Means Greater Convenience
Many dental care practices are open only during normal work hours; this means that some patients have to take time off work to undergo the care that they need. The addition of evening hours adds some flexibility to patients' schedules and makes it possible for them to undergo routine exams and necessary dental treatments at a time that is more convenient for them.
Full-Service Dental Care That Patients Deserve
Dr. Berger and the staff at South Florida Smile Spa maintain a commitment to providing patients with full-service dental care using state-of-the-art materials and tools.
"We here at South Florida Smile Spa strive to provide the highest quality of dentistry," said Dr. Berger.
This high-quality care includes general, cosmetic, sedation, and implant dental care services, such as:

Zoom!® Teeth Whitening
All-porcelain dental crowns
Smile makeovers
Dental restorations
Full mouth reconstructions
Oral surgery
Dental implants
TMJ disorder treatment
Therapies to address migraine headaches
BOTOX® Cosmetic
JUVÉDERM®
Invisible braces
Sedation dentistry
Endodontic treatment
Dr. Berger Can Reduce Anxiety and Promote Relaxation
The team at South Florida Smile Spa understands that going to the dental office can be a stressful experience. To better meet her patients' needs, Dr. Berger has been certified by the Florida Board of Dental Examiners as a conscious sedation dentist.
Sedation dentistry is ideal for patients who experience anxiety when they visit the dentist. Dr. Berger offers oral and IV conscious sedation to minimize patient apprehension before and during dental appointments. These sedation dentistry techniques keep patients in a completely calm and relaxed state throughout their treatment. That means no stress or anxiety when a patient receives high-quality dental care at Dr. Berger's practice.
"Being a sedation dentist is not just about being qualified to sedate a patient, but being able to help the patient to feel calm and relaxed," explained Dr. Berger. "Our most important goal is to make our patients feel as comfortable as possible."
Aesthetic Enhancement through JUVÉDERM® and BOTOX® Injections
In addition to providing comprehensive dental care with patient comfort in mind, Dr. Berger also offers cosmetic injection treatments to help reduce the appearance of facial lines and wrinkles.
To achieve effective anti-aging and wrinkle reduction, Dr. Berger uses JUVÉDERM® and BOTOX® cosmetic injections, both of which are safe and FDA approved. BOTOX® therapeutic injections can also be administered to address TMJ disorders and migraine headaches. At South Florida Smile Spa, patients can benefit from the therapeutic and cosmetic applications of BOTOX®, as well as the skin rejuvenation benefits of JUVÉDERM®.
Commitment to Wellness and to Beauty
This combination of dental health, wellness, relaxation, and aesthetic rejuvenation are all part of the treatment philosophy at South Florida Smile Spa. In essence, the goal is for patients of South Florida Smile Spa to achieve beautiful, healthy smiles in a calm, soothing environment.
For additional information about the dental care and aesthetic rejuvenation services offered at South Florida Smile Spa, patients are encouraged to contact the dental practice at:
Nicole M. Berger, D.D.S.
572 East McNab Rd Suite 102
Pompano Beach, FL 33060
Phone: (954) 785-1100
http://www.cosmeticdentistrypompanobeach.com
Originally posted by Nicole M. Berger