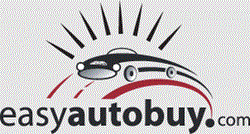 Consumers are making more online purchases than ever before and Easy Auto Buy plans to make purchasing a vehicle just as convenient!
Seattle, WA (PRWEB) October 21, 2013
Easy Auto Buy is bringing fun and innovation to a situation that many endure, but few enjoy: buying a car. Easy Auto Buy has developed a more personal method of buying a car, similar to General Motors' recent jump into online auto sales. This online method cuts out the pressures of a middle man, as well as allowing car shoppers to purchase a vehicle without ever having to leave the comfort of their home or office.
Consumers can visit http://www.easyautobuy.com, pick the car they want, and leave the rest to Easy Auto Buy's team of purchasers. The team will find the car, verify that the car is mechanically up to date, do the paperwork, take care of service needs, cleaning, and then deliver the car right to your driveway. They can also take care of selling the car you are replacing, if needed. One of the unique aspects of Easy Auto Buy, that many auto buyers may not realize, is that the Easy Auto Buy's car guys and gals may also work for a local dealership. That being said, consumers don't need to worry because Easy Auto Buy's purchasers are strictly prevented from administering any of the personal badgering techniques that are employed by some traditional auto dealerships. The dealers that are participating with Easy Auto Buy are excited because they see this model as a great opportunity to reach younger generations who have spent their whole lives shopping online for various items. They also understand the intimidation level that comes with buying a new car, and want to fight against it so that consumers can have an enjoyable car-buying experience.
Consumers are making more online purchases than ever before and companies like Amazon, eBay, and hundreds of others have made purchasing items online extremely convenient for busy consumers. Easy Auto Buy plans to make the purchasing process just as convenient for people looking to obtain their next new or used car. As well, Easy Auto Buy CEO, Jerrod Sessler, is developing a proposal for partners or investors who are interested in Easy Auto Buy. Recently, Sessler stated, that "Easy Auto Buy is what consumers need. The market is ready for this transition and we want to be in the right place at the right time. Purchasing cars online through a personal, streamlined service is a natural progression in the movement towards easier retailing and online commerce that we have seen in recent years."
Even though Easy Auto Buy, and this business model, are new to the marketplace, the Easy Auto Buy team has an extensive background in online lead generation and franchising. This history is an asset as they know how to drive online web traffic and quickly build a flourishing business. These factors set Easy Auto Buy up to be a wildly successful auto purchasing solution and web destination for those looking to buy their new car the easy way.
If you are interested in learning more about Easy Auto Buy then visit http://www.easyautobuy.com or email us at info(at)easyautobuy(dot)com
# # #
Contact:
Justin Gillebo (media)
justin(dot)gillebo(at)hometask(dot)com
206-763-6800