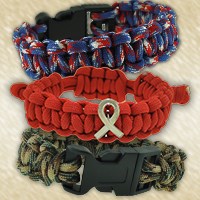 Our focus on both military causes and awareness fundraising brought about our version of the paracord.
Chicago, IL (PRWEB) November 20, 2013
PinMart Inc. has a longstanding relationship with current military and military veterans, and this focus has recently extended past lapel pins to include a new line of paracord bracelets. The origin of these unique pieces takes place in World War II, with the advent of paratroopers. Airplanes were used aggressively in this war, and thus paratroopers. The need to have extra parachute cord on hand in case of emergency was of the utmost importance to these soldiers and out of necessity, paracord bracelets were born. Intricately woven 550 cord was worn on the wrist to be accessible in an emergency both in the air or after landing, and that usefulness continues to this day.
Modern day paracord bracelets are popular amongst survivalists and outdoors men and women. Their uses extend from storage of supplies, repairs of tents and other gear, for repelling and other life-saving procedures. Their usefulness was just one component that PinMart targeted though. "Our focus on both military causes and awareness fundraising brought about our version of the paracord," PinMart explains. Their marriage of traditional paracord bracelets with awareness causes such as breast cancer and down syndrome is building interest in these niche products from individuals not familiar with paracord culture.
This fusing of disparate concepts is a cornerstone of PinMart's business philosophy. Their passion for custom promotional items means that creativity and cohesion are vital. And with awareness cause paracord bracelets, PinMart has reinvented an already established product in order to bring it to a whole new audience.
About PinMart: PinMart, Inc. is a privately held company located in Mount Prospect Illinois, a suburb of Chicago, specializing in the design and manufacture of paracord bracelets, custom pins, emblems, awareness products and emblematic jewelry. PinMart sells stock products via its online store and offers custom design and manufacturing. PinMart has taken advantage of its well-positioned internet presence and now boasts a client list that includes over 300 of the Fortune 500 companies.