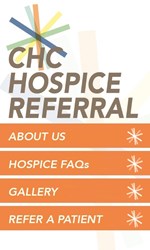 "Since more than 80 percent of doctors use mobile devices, the CHC Hospice Referral App is an invaluable tool for providing timely and accurate hospice care to our community." Mark Murray, President and CEO
South Bend, IN (PRWEB) October 22, 2013
To streamline patient referrals to hospice car, northern Indiana's non-profit, community based hospice provider, Center for Hospice Care, offers physicians a free, downloadable app for use on mobile devices. Rather than having to fax a written order, the CHC Hospice Referral App allows doctors to refer patients for care online wherever they are — whether visiting hospitalized patients or talking with families in the office. Use of the app will mean more efficient admissions, a smoother transition to hospice that maintains continuity of care, and more effective communication between physicians and Center for Hospice Care.
"We are very excited to launch our Hospice Referral App," noted Mark Murray, President and CEO of Center for Hospice Care. "Since more than 80 percent of doctors use mobile devices, the CHC Hospice Referral App is an invaluable tool for providing timely and accurate hospice care to our community."
Versions are available at Google Play Store for Android-based phones and tablets, and at the App Store for use on iPhones and iPads. To request your CHC Hospice Referral App Welcome Package, please contact Amy Tribbett, Center for Hospice Care's Director of Marketing and Access at 574-243-3711.
About Center for Hospice Care:
Center for Hospice Care is a not-for-profit, community-based agency improving the quality of living through hospice, home health, grief counseling, and community education. With offices in South Bend, Mishawaka, Plymouth, and Elkhart, Center for Hospice Care serves St. Joseph, Marshall, Elkhart, Fulton, Kosciusko, LaGrange, LaPorte and Starke Counties. For more information, please visit http://www.centerforhospice.org.