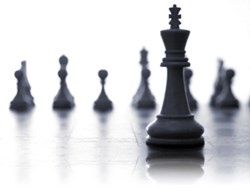 For months I've suspected that Helen cheats the rest of us.
Anchorage, Alaska (PRWEB) October 20, 2013
Lynne Curry, Ph.D., SPHR (CEO of The Growth Company, Inc.) has over 30 years of experience in management consulting and frequently receives questions from clients regarding situations in the workplace. Today, Dr. Curry releases an article directed toward employees facing large and small battles with coworkers.
Dr. Curry received an email from a client, "My co-worker, "Helen," always offers to handle the finances for our office crew when we eat out at lunch or collectively buy a present for our supervisor on a special occasion. For months I've suspected that Helen cheats the rest of us. I haven't wanted to call her on it because she has ways of getting even with people she doesn't like."
"I've tried several ways to stop Helen. I've asked for a separate check but was told by the waitress that she couldn't give us separate checks. On our last outing, I offered to handle the group accounting myself only to be told by Helen in front of everyone, 'It's no problem, I'm used to it.'"
"This noon we ate at a Chinese buffet which charges $8.99 for its luncheon buffet. Even with a 20 percent tip our shares should have been $11. On our way back to the office, Helen told us we all owed $12.99. Everyone forked over $13. I did too, feeling intimidated."
"I went to a co-worker and told her my concern and she said, 'Honey, we all had dessert and cokes.' I felt small to have even raised the issue over $2. I did, however, call the restaurant and learned they included the soft drinks and desserts in the $8.99 charge."
"I need to know what to do and please don't tell me to talk to our boss. The team all hates our boss, especially Helen. She and he battled and since then he's been on the outs with the whole team and I don't want that to happen to me."
Read on to find out how Dr. Curry responds…
CLICK HERE to read the full article.
The Growth Company, Inc. is a Human Resource and Management consulting firm specializing in soft skills training, facilitation and mediations as well as investigations, coaching and manual/policy write ups and re-writes. The Growth Company, Inc. was established in 1978 and is one of the longest lasting consulting firms in Alaska.
For further information about The Growth Company or Dr. Lynne Curry click here. The Growth Company also has a Workplace Coach Blog, where Dr. Lynne Curry and other HR professionals post about everyday situations that a manager or supervisor may come across. They provide insight and the correct way to approach and handle these situations.