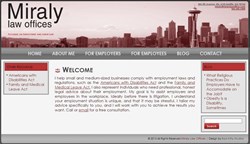 The new Miraly Law Offices website serves as an easy-to-navigate, attractive and non-intimidating web resource for people who need legal assistance.
Spokane WA & Seattle WA (PRWEB) October 29, 2013
Bad Kitty Studios, a full-service web design company based in the Pacific Northwest, is pleased to announce the launch of a website for Miraly Law Offices in Seattle. The responsive new site was designed by Bad Kitty Studios and is currently live.
Miraly Law Offices helps small and medium-sized businesses comply with employment laws and regulations, such as the Americans with Disabilities Act and the Family and Medical Leave Act. They also represent individuals who need professional, honest legal advice about their employment.
The firm's goal is to assist employers and employees in the workplace, ideally before there is litigation, the website says, quoting Mr. Miraly: "I understand your employment situation is unique, and that it may be stressful. I tailor my advice specifically to you, and I will work with you to achieve the results you want."
The law firm's website serves as a high-quality, organized and efficient web resource to convey legal information to business owners and individuals seeking representation. The main page is uncluttered and attractive, with separate areas for employers, employees, and those interested in the firm's blog and history in the Seattle area; plus links to labor and employment law.
About Bad Kitty Studios
Bad Kitty Studios is a full-service web design agency and digital advertising service backed by teams of software developers, technical writers, and graphic designers through its parent company, Imprezzio Inc. Bad Kitty Studios takes pride in delivering consistent high quality, functionality, simplicity and great design in website services and in the back-end software that makes it all work.