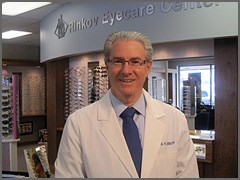 "A lot of doctors like to be doctors, and don't understand the business side of it – and the business side is getting tougher and tougher.", Dr. Mark Rinkov remarks.
Columbus, Ohio (PRWEB) October 23, 2013
Over the 36 years optometrist, Mark Rinkov has been in practice, his chosen profession has come through many changes and challenges. One trend has been the professional eye care industry's consolidation and growth of chains.
There are various issues that are driving this process but one of the main reasons is that for many optometrists, the reality of modern practice puts limits on their time to do what they are trained for; and that is to practice good eye care. Simply put, the practice of running a healthcare facility comes with the burden of operating a business and that burden is becoming evermore encumbering.
One of the biggest impediments, as Dr. Rinkov puts it, is the "mind-boggling" insurance system optometrists and other health professionals must deal with on a daily basis. In response to years of frustration Rinkov made the decision to revamp his practice. In 2010 he hired his son, Jeffrey Rinkov, to overhaul his back office. A lawyer by profession, Jeff Rinkov adopted an electronic records system and redesigned the process for dealing with insurance benefits. This past year he hired an additional 7 insurance specialists so patients immediately understand what their plans cover resulting in fewer insurance rejections.
Now that Rinkov has successfully re-vamped his back office and has his son handling marketing and other operational duties, he is now able to focus exclusively on patient care. As an example, he has developed a comprehensive, standardized 20-step eye exam. Through new procedures and equipment he has diagnosed malignancies and can detect pre-diabetic eye changes before a patient is diagnosed with diabetes.
Rinkov recognizes that many others in his profession would also like to free themselves of the operational burdens of running a practice and focus solely on patients. Acquisition is the easiest way to accomplish this and Rinkov Eyecare Centers just made their first.
Last month, Rosenthal Vision Center was acquired adding one optometrist and two offices for a total of 7 Rinkov locations in Central Ohio. Currently the Rinkov's are in talks with more practices. Says Dr. Rinkov; "A lot of doctors like to be doctors, and don't understand the business side of it – and the business side is getting tougher and tougher."
Today Rinkov Eyecare Centers is the largest privately owned optometry practice in Central Ohio. For Dr. Rinkov and son, this is only the beginning of building a growing practice that excels in quality eye care.
For more information about Rinkov Eyecare Centers contact:
http://www.rinkoveyecare.com/
About The Consumers' Choice Award:
Established in 1987, the Consumers' Choice Award® identifies and promotes businesses that deliver customer service excellence. The Consumers' Choice Award® has retained a leading independent research firm to conduct surveys in U.S. cities; Columbus , Atlanta, Dallas, and Houston. The winners are determined by consumers and not by a panel of judges. The survey covers a broad range of categories of interest to both the public and business communities. Its purpose is to publicly identify those establishments that have been voted by consumers as being their choice for excellence. The Consumers' Choice Award® is a most prestigious tribute to local businesses that serve their communities well. The program is encouraged by all levels of government and by business leaders. Find out more about The Consumers' Choice Award® by visiting http://www.consumerschoiceaward.com/