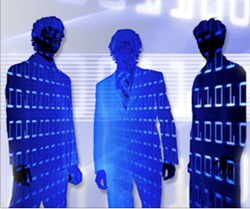 Hacker For Hire, When You Feel You Can't Go Anywhere Else!
Atlanta, CA (PRWEB) October 22, 2013
International cyber security company Hi-Tech Crime Solutions the provider of HackerForHire.com releases its stats on the number of consumers, athletes, companies, and politicians that are seeking programming or "hacker" services.
There have been many recent articles that have talked about big corporations and government websites being hacked. Several of these articles discuss how major security companies are addressing the needs of the big corporations, by putting systems in place to reduce the threat of future attacks. These preventative measures are pricey, resulting in millions of expense dollars paid out annually, but what about the everyday cyber-crimes that are rarely talked about? Who do you turn to if your email, Facebook, or personal computer has been hacked? Cyber security expert and founder of HackerForHire.com, Gregory Evans, says, "If you are being blackmailed or cyber extorted and you are not a high profile individual or company you cannot call any of the big computer or security companies to assist you. You may not even get a call back. What do you do if you only have 90 minutes to send $20,000 to a cyber-criminal to prevent the distribution of pictures or videos via email to your family, friends or co-workers? I'll tell you what you do; you call HackerForHire.com and allow us to handle the situation. While our capabilities are expansive, our business caters to the everyday consumer and small to medium businesses."
As the practice of extortion, revenge porn, mug shot display and other intrusive behaviors increase, the need for programming services is also on the rise. "Hacking services have turned into the modern day private investigation services," says Evans. "There are more and more extortion websites, gaining traction every day. These sites allow anyone to post pictures or say anything about you or your company, and distribute the information to the public within moments. Knowing that you are most vulnerable when your privacy has been violated, some sites proceed to charge you a fee to take down the information. Others will not charge you anything because they make all their money via banner ads. When things like this happen, calling your average computer security company or IT team will prove ineffective. You need one of our experienced technicians to help you preserve your character and reputation."
In February of 2013 HackerForHire.com was hired by a South American family to help retrieve their daughter who had been kidnapped. The kidnappers would only communicate via Skype, which provided HackerForHire.com an opportunity to obtain the IP address of the criminals. Head case worker for HackerForHire.com, Don H. states, "Once we had the IP address we were able to hack into their computer within 5 hours and locate the kidnappers by analyzing some of the files they had on their computer." With the assistance of the local authorities, HackerForHire.com was able to locate where the young girl was being held and help safely return her to her family. "This is what we do," says Evans. "We are here to serve our global community by leveraging technology in a positive way."
Dealing with programming or "hacking", companies can be tricky for most users because they are all different. There are a lot of programming services that have fancy websites and claim to do everything that we see in the movies. One programming service called Neighborhood Hacker started a website called hackerforhirereview.com which they used to give their company great reviews in order to generate more traffic to their main website while at the same time trying to discredit its competition. "The process this company uses is counterintuitive. When a person hires a hacker, they want to remain anonymous. They want to create as little fanfare as possible. Why would a person privately hire a hacking company and then publically write a review about using the service? Every one of the reviews is fake," says Evans. "With HackerForHire.com all client information is confidential. That's the way it has always been and we will never change that."
The below chart outlines the different classes of users that used programming services in 3rd quarter 2013.
Top 12 Clients
1. Athletes - 17
2. Actors/Actresses - 48
3. Politicians (USA & Foreign)- 11
4. Husbands- 92
5. Wives - 135
6. Parents - 77
For the reset of the story including the a list of the extortion websites and the rest of the statistics go to blog section of one of the following links:
http://hitechcrimesolutions.com, http://hackerforhireusa.com, http://hackerforhire.com, http://gregorydevans.com, http://gregorydevans.wordpress.com, http://hackerforhirereviews.com, http://gregorydevans.blogspot.com, http://nationalcybersecurity.com
For more information contact us:
Hi-Tech Crime Solutions
pr(at)HiTechCrimeSolutions(dot)com
(202) 657-6657