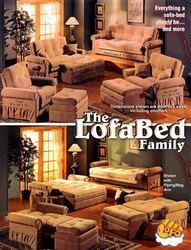 4 of the 7 LofaBed sizes are shown here in both the sofa and bed positions.
Montréal, Québec (PRWEB) October 22, 2013
Amidst a market of bar-in-your-back, uncomfortable, and heavy traditional pullout sofa-beds, one U.S.-born entrepreneur is living out his pursuit of the American Dream across the Canadian border by creating a revolutionary new sofa-bed that boasts a plethora of comfort and practicality.
Mitch Wapen, owner of Lofa Sales International, has achieved success with his LofaBed, which completely redefines the traditional concept of futons, sofa sleepers, and Hide-A-Beds. His design combines a davenport base with a futon mattress, resulting in a practical and economical alternative to the traditional pullout sofa-bed. The LofaBed looks like a traditional upholstered piece of furniture, but instead incorporates an 8" buttoned futon mattress of standard dimensions, a storage compartment big enough to hold sheets, blankets and pillows, and an easy-to-use wall-hugging mechanism. And for those living in small spaces, the LofaBed can be "knocked down" for easy carrying and placement in locations too small for other sleepers.
"I developed the LofaBed because I wanted a comfortable sofa-bed to offer my mother when she came here from Philadelphia to visit her grandchildren," explains Wapen. "Neither futons nor Hide-A-Beds were comfortable enough. I wanted her to stay longer because she felt as comfortable in my home as she did in her own."
Upon completion of his first design, Wapen went about marketing it through a network of retail furniture dealers in both Canada and the U.S. The problem was that the "landed" price, including freight, was simply too high for retailers to be competitive. So Wapen created a website, LofaSofa that offered the LofaBed at wholesale prices, directly to the North American consumer over the internet. What he found was a huge audience of customers who not only loved his invention because of its comfort and practicality, but also absolutely hated the bar-in-your back, heavy, and skinny mattress mentality of the existing array of sofa sleepers.
LofaBeds are made-to-order out of Canadian hardwood in 7 sizes, 10 arm designs, and 25 upholstery-grade fabrics, and shipped to the consumer within 30 days of order date. And, according to Wapen, any orders placed in the month of October will be made and shipped in time for American Thanksgiving. By keeping his website customer-friendly through incredible testimonials, videos, customer photos, mailed fabric swatches, and a blog, Wapen has been able to overcome the limitation of being an online-only company.
LofaBed Feature/Benefits:
1) 8″ Thick Upholstered Futon Mattress. With four layers of 2.0 density foam and four layers of 8 lb. cotton batting, this is one thick, comfortable mattress. And the fact that it's a standard 54″ x 75″, means that fitted sheets will fit nice and tight.
2) Storage in the Base. This is one of the unique features of all davenports. The storage cavity is 75″ x 27″ x 7″ high, and is plenty big enough for sheets, blankets, pillows, and more. The addition of a storage facility makes the LofaBed ideal for small apartments or any room where space is at a premium.
3) Davenport Click-Clack Mechanism. This is the second unique feature common to all davenports. As you can see in this video demonstration, this is one sofa-bed that even a 10-year-old can operate. The davenport mechanism allows the LofaBed to be placed up against a wall, and still open to the bed position with ease and control and very little effort.
4) Pirelli Elastic Webbing. This is where the LofaBed separates itself from the world of futons. Futon mattresses sit on wood or metal slats, offering distance off the ground but precious little comfort. Over time, they usually bottom out. Traditional upholstered furniture places springs underneath the cushions for that sink-in, luxurious feeling. And the LofaBed approximates that experience with a pattern of criss-crossed Pirelli elastic webbing directly underneath the futon mattress. The webbing acts like a spring, offering both comfort and longevity to the LofaBed experience.
5) Canadian Hardwood Construction. In a world where domestic furniture manufacturers are trying everything and anything to compete with the imports, the LofaBed is still constructed of real Canadian hardwood. Whether its oak, ash, maple, or birch…whatever the factory selects is going to be strong and long-lasting. After all, it's made in Canada.
6) Knocked-Down for Easy Moving. The LofaBed is designed for people on the go. Whether you're moving to another city or just a different room, it's a major benefit to be able to make big pieces of furniture smaller and lighter to handle. The LofaBed is designed so that the arms and futon mattress are removable, and the biggest piece weighs only about 100 lbs. and can still fit through an opening as small as 12 inches. Down the basement, up to the attic, around a corner…..there's almost no place a LofaBed cannot go. In fact, many sales are based on the premise that the LofaBed is the only piece of furniture that fits where the customer wants to put it (think RVs, mobile homes, trailers, boats).
7) Low, Padded Arms for Napping. The LofaBed has been in production for more than fifteen years, and it's well-known that people like it for both sleeping and napping. The arms were designed to be as low as a double bed pillow...with extra padding...so that napping would be enjoyable, not painful.
8) Made-to-Order in Less than a Month. Most upholstered furniture is sold from inventory. If the store has to special order it, 90 days is the norm. Then along comes the LofaBed, which is made-to-order in Canada, and shipped throughout North America within 30 days of order.
9) Competitively Priced. The price for a full/double size LofaBed, in any fabric and in any arm style…is under $1,000...and that includes Premium Foam , Packaging Plus, AND delivery to any state in the U.S. northeast. Considering the many feature/benefits listed above, that's a pretty competitive price. Much lower than any store could sell it for. That's because overhead is low, shipping is directly from the factory, and prices are wholesale.
Others make sofa-beds, LofaSofa makes a good night's sleep.
Contact: Mitch Wapen
Lofa Sales International
877-424-1431
http://www.lofasofa.com
lofasofa(at)videotron(dot)ca