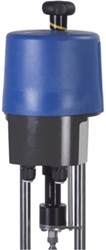 Blythewood, SC (PRWEB) October 20, 2013
Spirax Sarco, the leader in products and services for steam systems, has announced their new and improved AEL 5 series electric actuator range for 1/2" to 4" control valves.
The AEL 5 series electric actuators are reversible having linear output. Its internal components such as the PCB, positioner card and limited switches are affixed to a more durable and sturdy aluminium support for holding and/or fitting accessories.
This range has been developed with an easy commission limit switch adjuster. This design allows the user to loosen the cam with one screw and then adjust its position with a second screw making it more user- friendly to adjust.
One of the main benefits to the AEL 5 series is that the valve adaptor helps to improve the installation process. It was engineered to simplify the process and remove the need to assemble the disc springs as well as minimizing the chance of thread damage and errors.
Contact your local Spirax Sarco representative to assist you with sizing and specifying the most suitable AEL 5 series electric actuator for your application.
###
About Spirax Sarco, Inc.
Spirax Sarco is the world leader in steam system management. The Company provides a broad range of fluid control products, engineered packages, systems expertise and site services for its diverse range of over 100,000 industrial and institutional customers. The Company helps its customers to optimize production capacity, reduce energy costs and emissions, improve product quality and enhance the safety of their operations. Spirax Sarco has strategically located manufacturing plants around the world and employs approximately 4,700 people, of whom around 1,300 are direct sales and service engineers. Further information can be found at http://www.spiraxsarco.com/us.