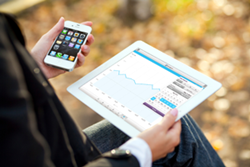 Rolling Meadows, IL (PRWEB) October 28, 2013
Mutare announced today professional service and design support services for analytics and reporting on Avaya, Cisco, Microsoft, Salesforce.com and Genesys contact center platforms.
"Every contact center customer call, email, and chat contains invaluable insights. That is of course if the right information is collected, analyzed, measured, reported and acted upon," said James Emanuele, Practice Leader at Mutare. "This is no easy task when dealing with multiple data sources from disparate vendors."
Unlike platform-specific vendors with a narrow area of expertise, Mutare's knowledge and experience with all major CC and UC platforms provides a single-source, well-coordinated and cost-effective service that assures optimal configuration and performance for contact center systems, including:

Data warehouse development and implementation
Reporting data integration and application development
Custom analytic algorithms and applications
Mobile applications and development
CRM Integration
IVR Integration
Says James Emanuele, President, Mutare Contact Center & Advanced Integration, "Anybody can sell you a workforce management optimization platform, but 9 out of 10 don't have the database sources to implement it correctly. And if the existing data is not accurately captured or organized, the value is lost."
The new practice is off to a fast start with several new engagements scheduled for completion by year end. For more information on direct contracting or subcontracting email: jemanuele(at)mutare(dot)com.
About Mutare
Mutare's unified messaging, smart notification and call center services help increase sales, reduce costs and meet regulatory compliance. Mutare is what unified communications should be - fast, easy and guaranteed. For more information, visit us at http://www.mutare.com.