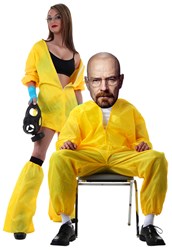 Pop culture and DIY costumes like Breaking Bad, Grand Theft Auto 5, What Does The Fox Say, and Miley Cyrus will be a smash hit for Halloween 2013.
North Mankato, Minnesota (PRWEB) October 19, 2013
This year's trending pop culture themes are providing creative inspiration for 2013's most popular Halloween costumes.
The much anticipated September series finale of the TV show "Breaking Bad" set the stage for the popularity of Breaking Bad Halloween costumes in October. Be prepared to see a bevy of hazmat suits, DIY Walter White, Heisenberg, and a host of other Breaking Bad character costumes at your Halloween party.
Video game smash hit "Grand Theft Auto 5" grossed $1 billion in sales within the first three days of its release this past September, making it the top grossing entertainment product in history. That means we're going to see a wide variety of jumpsuits, masks, and other thuggish GTA 5 costumes on the streets this Halloween.
Norwegian comedic duo Ylvis took YouTube by storm with their viral video, "The Fox (What Does The Fox Say)". Whether or not they intended to gain huge notoriety for this catchy (and absolutely ridiculous) song, the hit has gained 134 million views on YouTube and rose to number six on the Billboard Hot 100. Fortunately for devoted Halloween enthusiasts, "The Fox" also created an opportunity to display fantastic and slightly obscure animal Halloween costumes.
"Duck Dynasty" is an American reality TV series on A&E that profiles the Robertson family and their extreme fortune amassed by the family duck call business. In its fourth season, Duck Dynasty became the most-watched nonfiction cable telecast in history. Prepare to see beards, wigs, and camouflage tuxedos because beloved characters Uncle Si and Willie are "sharp dressed men."
Miley Cyrus shocked the world in her risqué performance with Robin Thicke at the 2013 VMAs. Miley's twerkin' teddy leotard and "We Can't Stop" music video look will both be incredibly popular this year. For a fun and highly recognizable couples costume, pair Miley with a DIY Robin Thicke costume. Don't forget to stick out that tongue!
Speaking of tongues… sexy costumes take a tongue-in-cheek turn in 2013 with "sexy" Breaking Bad and Duck Dynasty costumes. Walter White and Uncle Si are both hot items this year, and the ladies will be using their DIY skills to turn these costume ideas into "sexy" versions of the trending characters. Katy Perry's jungle-fabulous outfit from her music video "Roar" is this year's colorful "girl power" costume.
Other trending pop culture costumes we will be sure to see this Halloween are the infamous "Grumpy Cat", as well as characters from popular TV shows "Game of Thrones" and "The Walking Dead", among others.
To make sure Halloween revelers look their absolute best, HalloweenCostumes.com unveiled the Fit Finder, which allows customers to enter their measurements and find the perfect fit for their favorite costume. Also new in 2013 is the recently debuted Make A Mask which gives the creator the ability to make a large foam mask out of any .jpg, .gif, or .png file. Make A Mask allows total personalization and maximum creativity in Halloween costume design.
About HalloweenCostumes.com
Based in North Mankato, Minnesota, HalloweenCostumes.com is a world leading retailer of costumes and accessories. With more exclusive styles and sizes added every day, we can't guarantee your choice will be easy, but we can guarantee an exciting shopping experience that includes unequaled customer support and tools to ensure you find a costume that's your perfect fit!