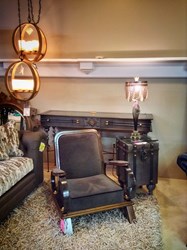 "Any retailer that's serious about their business needs to go. It's an exciting time for us and our customers." -James Prutilpac
Morgantown, WV (PRWEB) October 18, 2013
Twice a year, people from all parts of the home furnishings industry converge on High Point, North Carolina for a week of seminars, product unveilings and networking. For years, High Point has been considered the furniture capital of the world. Many companies at the forefront of the industry have their headquarters there. While markets across the country have tried to take the top spot, most notable the Vega Market, High Point still stands as the most prominent. At Chuck's Furniture, they know that if you want to succeed, you have to go.
James Prutilpac, whose eponymous grandfather founded Chuck's Furniture, will be going to High Point for his first trip this week.
James said, "Market is a great time to really take a look at your business and decide whats working and what isn't. My parents went for years and had great contacts throughout the industry. For one reason or another, their focus shifted away for a while and we saw a change. We weren't always where we wanted to be. We didn't always carry the product that we needed to carry. That's what market is about. You get to see how the companies you do carry reinvent themselves each year and you have a chance to see and feel products from companies that you don't. Any retailer that is serious about their business needs to go. It's an exciting time"
Customers can expect to see great deals on discontinued items around this time. Most manufacturers switch their production in tune with markets. They adjust their styles and colors to match the changing consumer. Most retailers sell off their warehoused stock and floor models at great prices to make way for the new items they bet on in North Carolina.
For customers that can't seem to find what they want, this is a great time to make your desires known. Retailers love hearing what they are missing out on when they can make an effort to change. At market, many furniture buyers will have a list they've accumulated from customers whose needs they couldn't meet.
James says that this year, "We will be looking at reinventing our reclining and bedroom options. We've seen some places we may have been lacking in certain price points, styles or functions and we want to fix that. That doesn't mean we won't be looking at other areas of our store. We are always on the look out for great values for our customers."
Chuck's Furniture has been a family owned and operated retail Furniture store in Morgantown, West Virginia for over 40 years. They serve a big part of northern West Virginia, southeastern Pennsylvania, and western Maryland. Uniontown, Waynesburg, and Mt. Morris, Pennsylvania; Morgantown, Fairmont, Clarksburg, and Buckhannon, West Virginia; and Deep Creek, Oakland, and McHenry, Maryland are common routes for their deliveries.