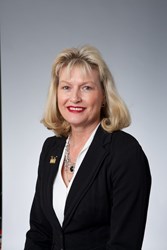 The League represents everything that I believe in both in relation to nursing education and to nursing education research. This organization represents quality nursing education for all types of nursing programs. - NLN President Marsha Adams
Washington, DC (PRWEB) October 21, 2013
The NLN announced the results of its annual Board of Governors (BOG) elections at its 2013 Education Summit on September 20. Marsha Howell Adams, PhD, RN, CNE, ANEF, the senior associate dean of academic programs at the University of Alabama Capstone College of Nursing in Tuscaloosa, assumed the NLN presidency, the anticipated conclusion to her service these past two years as president-elect. Dr. Adams will serve as the League's president until 2015.
In her inaugural address to the NLN membership during the recent Summit, Dr. Adams thanked past and present NLN leadership for their support during her tenure as president-elect and expressed excitement about taking the helm of the BOG at an important juncture in the League's history:
"I am incredibly honored and humbled to be standing here today as the next president of the National League for Nursing. It is particularly special for me to begin this service as the NLN makes its home here in DC," she said, noting, "Through the NLN Centers for Nursing Education, we will better engage our membership, strengthen our communication abilities, and provide resources and support in the areas of nursing education research, transformational leadership, care of the older adult, global health, preparing faculty for cultivating a diverse workforce, create innovative teaching strategies and advanced use of technology, promote successful academic progression models, and provide assessment and evaluation tools.
"The League represents everything that I believe in," Dr. Adams continued, "both in relation to nursing education and to nursing education research. I strongly support the fact that this organization represents quality nursing education for all types of nursing programs."
Concluding in a jaunty tone, perhaps reflective of her Southern roots, the Alabama nurse educator observed, "SWAGGER is behaving in a very confident manner; it is style, moving with confidence, sophistication; conducting oneself in a way that would automatically earn respect. Well, let me assure you that the NLN and its membership have swagger, your president has swagger, and Dr. Beverly Malone has some major swagger. The move to DC is just a start of how the NLN will demonstrate swagger!"
Anne R. Bavier, PhD, RN, FAAN, who in the past has served on the NLN board as a governor at-large and as BOG secretary, stepped up to become the next president-elect. Dr. Bavier is professor of nursing and medicine at the University of Connecticut School of Nursing in Storrs, where she recently retired as dean. Dr. Bavier also has more than a dozen years of experience in leadership roles at federal health care agencies, including that of deputy director of the National Institutes of Health's Office of Research on Women's Health. Among her many accomplishments over a varied, distinguished career have been encouraging faculty to increase their scholarly publication and presentations; increasing grant funding to the academic institutions under her watch and expanding aid to economically disadvantaged nursing students.
Joan L. Frey, EdD, RN, NEA-BC, dean of the Louisville Campus of the Galen College of Nursing in Kentucky, was re-elected secretary and will thus continue to serve another two years in that office.
Two New, Two Re-elected Governors At-Large
This year's election cycle saw the renewal of two veteran governors at-large: Gail Baumlein, PhD, RN, CNS, CNE, ANEF, program chair of nursing at Franklin University in Columbus, OH; and Teresa Shellenbarger, PhD, RN, CNE, ANEF, doctoral program coordinator for Indiana University of Pennsylvania's Department of Nursing and Allied Health. At the same time, the BOG has welcomed two new governors at-large to its ranks: Janet Tompkins McMahon, MSN, RN, clinical associate professor of nursing and nursing education consultant in the Department of Nursing at Towson University in Maryland; and G. Elaine Patterson, EdD, RN, CNE, APN-C, a professor of nursing in the School of Theoretical and Applied Sciences at Ramapo College in New Jersey.
"On behalf of the NLN, first I'd like to publicly thank outgoing League president, Judith A. Halstead, PhD, RN, FAAN, ANEF for her extraordinary leadership and dedicated service. I, along with many others at the NLN, have relied on Judy's wise counsel in supporting the mission of the NLN," said NLN CEO Beverly Malone, PhD, RN, FAAN.
"Now, I have the pleasure of welcoming a new president, along with renewed leadership on the board, to help forge the next stage in the NLN's history, as we promote excellence in nursing education to build a strong and diverse nursing workforce to advance the nation's health. My team and I are excited to work with Marsha, with Anne, and with our two brand new members of the NLN Board of Governors: Janet McMahon and Elaine Patterson. And congratulations to our re-elected board members: Secretary Joan Frey, Gail Baumlein, and Teresa Shellenbarger," Dr. Malone concluded.
Editors and reporters: See attachment for more detailed biographical information about the 2013 elected officers and governors at-large, including their history of service to the NLN. For interview opportunities, please contact NLN chief communications officer, Karen R. Klestzick at 202-909-2483.
Dedicated to excellence in nursing, the National League for Nursing is the premier organization for nurse faculty and leaders in nursing education. The NLN offers professional development, networking opportunities, testing services, nursing research grants, and public policy initiatives to its 38,000 individual and 1,200 institutional members. NLN members represent nursing education programs across the spectrum of higher education, and health care organizations and agencies.