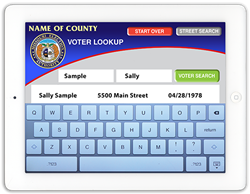 KNOWiNK's Poll Pad allows for a much faster and flexible voter check-in process.
St. Louis, MO (PRWEB) October 21, 2013
Each election cycle, election workers across the U.S. are forced to manage a cumbersome book of voter information in order to check in voters at polling stations. Long lines, frustrated voters, and stressed-out staff are all manifestations of an antiquated system of voter check-in.
At least that's the perspective of St. Louis entrepreneur and 2013 Arch Grant recipient Scott Leiendecker, whose company KNOWiNK builds their voter-registration software technology directly into iPads. These Poll Pads have the ability to streamline the voter check-in process during elections by scanning driver's licenses and electronically searching voting records. Scott believes that this process could dramatically affect the way voting check-in is administered at polling places.
Quoting Mr. Leiendecker, "Everywhere we look next-generation technology is disrupting the status quo and making our lives easier and better with new efficiencies and innovation. As a former Election Director, I am passionate about transforming the election process from start to finish and making it better for everyone."
Apparently he is not the only one who feels that way.
On October 17th, The Topeka Capital-Journal reported that Shawnee County, Kansas voted to authorize election commissioner Andrew Howell to begin talks with KNOWiNK. The commission aims to purchase 120 Poll Pads for the county's election processes. Nearby country, Wyandotte County, has already experienced the benefits of the Poll Pad. When a blizzard hit the county in February, the Poll Pad system allowed for greater flexibility in how the county's election office assigned polling places.
KNOWiNK has also secured three counties in Missouri in the past two weeks, putting their total county clients well over 40 total installs.
For more information about the Poll Pad, go to http://www.knowink.com.
About Arch Grants
Arch Grants is the global business competition providing $50,000 non-dilutive grants to promising startup businesses. Its mission is to create an entrepreneurial culture and infrastructure to build successful companies in St. Louis. For more information, go to http://www.archgrants.org.