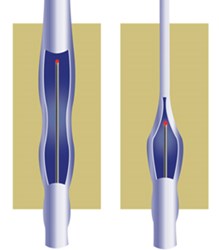 Vein disease is a debilitating condition that affects over half of all Americans.
Chicago, IL (PRWEB) October 20, 2013
The Chicago Vein Care Center is launching a new social media campaign to educate the public about new, safe and effective vein disease treatments. According to the Chicago, IL Center, modern techniques are available to treat all types of vein disease.
Dr. Ramon Castro, leading vein doctor at the Chicago Vein Care Center, cites new interventions that can alleviate vein disease symptoms when conservative measures are inadequate, "New, minimally invasive techniques such as endovascular laser therapy, phlebotomy and superficial laser ablation are highly effective for the treatment of vein disease. Above all, symptoms should not be ignored because vein disease is progressive and can lead to serious complications, such as deep vein thrombosis."
At the Chicago Vein Care Center, Dr. Ramon Castro and his staff devote themselves to superior vein disease treatment. Their advanced skill and extensive experience have earned them the reputation of vein specialists par excellence. The Center offers professional, compassionate and affordable vein care to all Chicago, IL residents. In October, the staff at Chicago Vein Care Center will be using social media including Facebook and Twitter to encourage the public to seek timely treatment for vein disease.
For more information, visit:
http://www.yourveinexpert.com/
Tel. (773) 283-7887
Varicose Vein Treatment Options
Varicose veins and spider veins are extremely common in men and women. While spider veins are very small, reddish veins on the surface of the skin, varicose veins are much larger, bulging, tangled veins that may appear bluish in color. Men and women suffer from varicose veins, although women are much more likely to have them.
Today, patients have access to a number of effective varicose vein treatment options. Advancements in technology and medicine have led to the development of effective, minimally invasive treatments that produce optimal results with few side effects or downtime. These treatments include sclerotherapy, radio frequency ablation, phlebectomy, and endovenous laser ablation.
About the Chicago Vein Care Center
One of Chicago's renowned physicians, Dr. Ramon Castro integrates the treatment of vein disease with the general care of internal medicine patients. In addition to his position as Director of the Chicago Vein Care Center, Dr. Castro is the Medical Director and CEO of Belmont and Central Medical Center and as Clinical Instructor for the University of Illinois Medical School. He and his staff are dedicated to individualized, understanding patient care and the highest professional standards in vein disease treatment.